When Lee Maxwell retired 21 years ago, he had a lot of time on his hands but no hobbies. But a vintage washing machine — a 1920 model his wife's aunt received as a young bride — became the seed for a collection that would overtake their Eaton, CO, home.
That summer, Maxwell and his wife rumbled across the country in a motor home, snatching up vintage washing machines and strapping them to the roof along the way.
"Every little bump we went across, we thought the roof was going to cave in," he laughs.
They bought a trailer to handle the growing collection. Then they bought a bigger trailer. They returned home with 13 machines and a new hobby. That collection has grown to a museum of 1,052 at last count and growing all the time. Most he has restored to working order. It's the largest collection of antique washing machines in the world, and a glimpse into an overlooked slice of Americana.
Collectors tend to ignore antique washing machines, says Maxwell, 75, whose collection has landed him in the Guinness Book of World Records.
"They tend to look like old engines when you find them. They're all full of decades of grease or dirt and you have to tear them all apart and clean that stuff out before you dare look at them. They actually look like, well, junk, when you get 'em. But when you clean 'em up, they really have their own art form."
It's an art form of old motors, oversized gears, twisting pipes, and tubs of wood, copper or porcelain. Most are electric. Some, made for rural areas that hadn't seen power lines, run on gas. Almost all of them required plenty of elbow grease.
Maxwell penned a book, Save Women's Lives — The First Ever History of Washing Machines. The title came from the label on a 1907 model, but, Maxwell admits, it was more than a slight exaggeration. Most machines were so hard to use, they didn't save much time or effort, he says.
"Some of these things you almost envision women wearing an engineer's cap, with an oil can in one hand and a wrench in the other. Some of them were monstrous."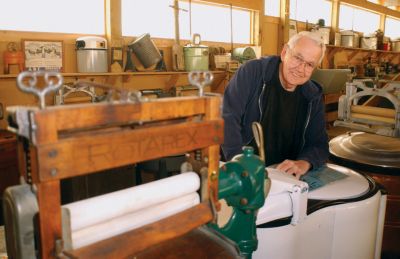 When Maxwell gives museum tours to senior citizens who grew up with them, somebody is sure to show off a scar, a bald spot, or a missing finger — a casualty of those arcane machines.
"If there was such a thing as a class-action lawsuit in the 1930s or '40s, I wouldn't have a museum these days," he jokes.
A retired electrical engineering professor, Maxwell traces washing machines back to 1750, but he's heard of drawings going as far back as 1460. It was in early 20th century America, though, when they became popular.
Electricity paved the way for labor-saving devices, and a growing middle class created the market. At one time, he says, more than 1,000 companies were churning out washing machines. Many of those models now find a home in Maxwell's museum. Just don't ask him to do the laundry.
"I guess I'm still of the old school where it's women's work," he says. "But don't let my wife hear that."
David Frey writes in Carbondale, CO.