Maybe it's a great-grandmother's wedding dress or a scrapbook you plan to save for your future generations. What's the best way to preserve those fragile family heirlooms for the long haul?
At the Historic Costume and Textile Museum at Kansas State University, a conservation lab and climate-controlled storage protect valuable objects up to 400 years old. But you also can keep heirlooms safe in your own home, says Senior Curator Marla Day.
First, beware of enemy No. 1: sunlight. Ultraviolet light will damage delicate fibers and fade papers and books, so use drapes or blinds to minimize exposure. At her own home, Day installed low-e glass, which blocks UV rays; a clear UV-protective film also can be applied to existing windows.
Rotate heirlooms like museums do, displaying items just part of the year, Day suggests. Her grandmother's quilt, for example, might be hung for the month of her birthday, and old photo albums could come out at family visits.
"Whenever something's on display for a long time, its specialness diminishes and you start taking it for granted," Day says. "It's like the Christmas tree — we all look forward to seeing that again and then it really takes on more significance in our lives."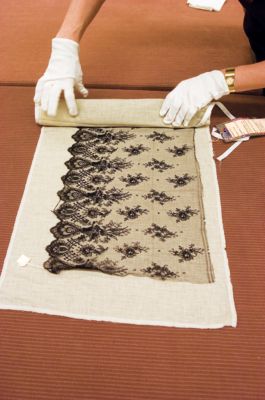 Keep stored treasures in livable spaces rather than the basement or attic, which can get too wet or dry, cold or hot. The museum keeps its collection right around 68 degrees.
Keep in mind that textiles and paper are made of natural substances that inevitably break down.
"Because they are organic, they are naturally going to decay, and so you're trying to slow that process and you do that by keeping them in a safer environment," Day says.
Once you have a storage space chosen, consider the method. If hanging, use padded hangers to avoid tearing fabric. Long dresses or heavy garments should be hung on small fabric loops so gravity won't stretch the threads.
If boxing, avoid plastic or rubber containers, which can foster mold and mildew. Use acid-free paper, cardboard, and tissue paper to avoid the natural substances in wood products that can damage items over time. Dozens of companies sell archival storage albums and boxes for photographs, books, clothing, and other collectibles.
They also offer acid-free tissues for padding fabrics and paper to slip between pages or photos to protect each surface.
Insects are a threat, but harsh mothballs can permanently scent or even disintegrate delicate fibers and cedar loses its effectiveness over time. The best bet is to make sure items are clean — bugs will snack on old stains — and kept moisture-free.
Most important, Day says, is don't let your heirlooms be "out of sight, out of mind." Check regularly for dirt, decay, and insects. Even if something happens, she says, you're better off stopping the problem right away rather than trying to rescue it decades later.
Hannah Wolfson lives and writes in Birmingham, AL.