Artie Barkley stops in mid-sentence. "Listen," he says, shifting his gaze upward at nothing in particular. As he waits to hear the sound he's anticipating, the stillness of the West Virginia mountains is broken only by songbirds' delicate twittering.
Then, in the distance, the plaintive wail of a locomotive whistle breaks the stillness — and Artie Barkley breaks into a smile.
After 40 years of workin' on the Cass Scenic Railroad in Cass, WV, Artie still treasures the sound of the Shay locomotives as they slowly chug their way up 11 miles of track to the 4,860-foot summit of Bald Knob. Designed by Ephraim Shay, these locomotives were intended to run on rough track, steep grades, and exceptionally sharp curves found in logging operations.
Those locomotives once hauled timber down from vast virgin spruce forests that blanketed Back Allegheny Mountain; now their cargo is tourists who seek out this remote mountain town to feed their love of trains and experience a colorful piece of history.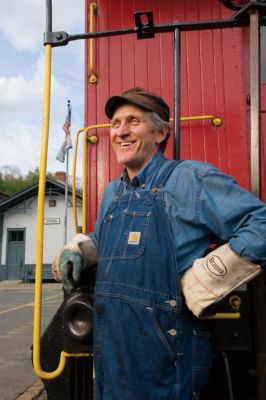 And Artie, who has worked nearly every job on the Cass railroad, is happy to oblige.
TELLING TALES
Artie was born and raised in Cass, a company town built in 1900 by West Virginia Pulp and Paper Co., which owned and operated the entire lumber operation — railroad included. Named for Joseph K. Cass, chairman of the board, the town's homes — identical in color (white) and architecture — were perched along steep hillsides, linked together with wooden sidewalks.
At one time, West Virginia Pulp and Paper employed some 3,000 men. As they labored cutting timber, hauling it down, and processing it in the lumber mill, young Artie and other children played in the dusty streets, went fishing in nearby Leatherbark Creek, and rode their bicycles. "I was a prankster and a jokester," he recalls. "You made your own entertainment."
Young Artie was captivated by the stories of Clyde Galford, engineer of Shay No. 5, an 80-ton locomotive that arrived in Cass in 1905, fresh off the assembly line. Artie frequently pedaled his bicycle up to the boarding house where Galford lived to hear the engineer recount his colorful railroading tales.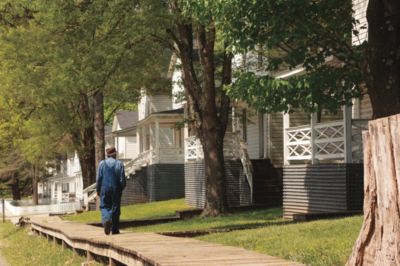 "He'd sit out on the porch while dinner was being fixed and I'd talk to him," Artie recalls. Galford reminisced about broken axles, low-speed collisions, harsh weather, and on-track adventures.
"He talked about things like during wintertime when the snow would drift on the track," Artie says. "They'd keep bucking until they got through the drift, but then snow would roll in through the cab windows."
The engineer's tales of adventure enthralled the youngster, who dreamed of one day taking the helm of one of the Shay engines that rumbled up and down the mountain.
But those dreams nearly stalled before they ever had the chance to be lived.
SWITCHING TRACKS
Cass' lumber operation abruptly shut down July 1, 1960, with no notice given to employees — a move that devastated the workers, but was not completely unexpected. The company had been in decline for more than a decade, particularly after its owner died in late 1955.
The outfit was a far cry from its heyday that once saw the three-story lumber mill operate two 11-hour shifts six days per week, cutting 125,000 board feet of lumber each shift.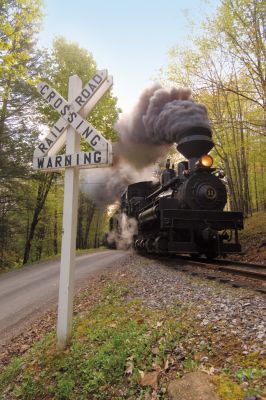 So the land was sold and plans were made to dismantle and scrap the railroad tracks. The future looked bleak for Cass and its residents — until a railroad fan from Pennsylvania recognized that the old logging operation could become a beneficial tourist attraction.
After much investigation, planning, and lobbying, the state Legislature and West Virginia governor approved a bill in 1961 bringing Cass into the state parks system, along with 11 miles of track, three locomotives, 10 flat cars, four camp cars, three motor cars, and other equipment.
About two years later, when the reconditioned Shay locomotives fired up to haul a new and different cargo than in years past, some 23,000 rail fans traveled the curvy, two-lane highways up to the Cass Scenic Railroad that first year to ride the historic, scenic railway and revel in its colorful, remarkable past.
Their fascination with that historical past would chart Artie's future.
'IT'S WHAT I WANTED'
Clyde Galford's exciting railroading stories deeply affected young Artie, and he wanted those adventures, too — to fire up the Shays, to guide them up the track, to see his world from the vantage point of a locomotive cab.
After his 1965 graduation from high school — just about a week, in fact — Artie found his heart's desire on 11 miles of track in Pocahontas County, WV.
"It's what I wanted," Artie says.
His first jobs were to hostle, or take care of, the locomotives. Artie would stay with them at night to keep water in the boiler or fire them up at the appointed time.
The eager young man earned his stripes and seven years later, he climbed up into a locomotive cab where he would stay for the next 25 years as an engineer, hauling railroad buffs up the tracks to the summit of Bald Knob.
He trained with his mentor, Clyde Galford, and treasures the lessons the older man passed on to him. "He was a good teacher," Artie says. "What was right was right and what was wrong was wrong and I did things just like he taught me. If he did something a certain way, I watched and did it exactly the same way."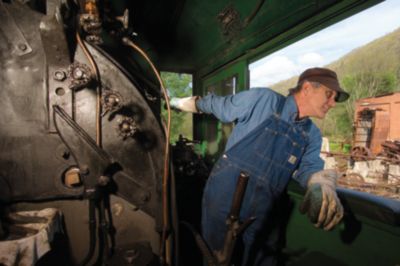 That careful attention to detail, combined with his passion for the railroad, has made Artie the "go-to" guy for rail fans.
"He's definitely known as a guru when it comes to antique steam locomotives," says Mitch Overton, Cass Scenic Railroad's assistant superintendent in charge of railroad operations. "People call from all over the country for his expertise."
Artie is as popular for his storytelling as his railroad know-how, Overton says.
"We get elder hostels with railroading themes and they always want me to bring Artie up to do presentations. He gets up there and they just all shoot the breeze with old stories of Cass," Overton says, with a laugh. "You would think they'd want to talk about the Shay engine and numbers and specs, but they want the real deal from someone who's been there."
Artie indeed has been there. "When it comes to the railroad, I've done just about everything," he notes.
And he's been glad to do it. "It's a job you have to like (in order) to do it," Artie says. "It's dirty. These engines get your clothes all black just looking at them."
'IT'S ALL LIKE IT WAS'
Take a walk down Cass, WV's main street and you'll see pretty much the same things that were there 100 years ago.
"This town went directly from being a company town and railroad to being a state-owned and state-run facility," says Mitch Overton, Cass Scenic Railroad's assistant superintendent in charge of railroad operations. "Therefore, the homes have never been privatized. You don't have a yellow one here and a blue one there, or any air conditioning. It's all like it was. That, I think, is tough to find these days."
And that is why an average of 60,000 rail fans and history buffs drive the curvy, two-lane road to this way-off-the-beaten-path destination each year.
Still, the best part of his four-decade career was running those engines, particularly Shay No. 5. Engineers become intimately familiar with their locomotive and can tell how well it's running simply from the sound or feel of the engine.
"It's just about like a human being," he says, with a slight smile.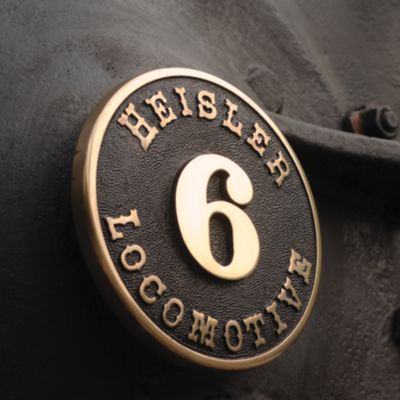 These days, in between occasional engineering duties, tours, and elder hostel visits, Artie is shop foreman, with responsibilities to ensure that the Cass locomotives and cars are properly maintained — checking for loose bolts or broken parts, keeping moving parts oiled, greasing rods, finding parts, and even making parts.
"I've got a good crew," he says. "No one man can do all this. We work as a team."
But if there's a single symbol of Cass Scenic Railroad, it just might be Artie Barkley, a hometown boy who found his life's work in the wail of the locomotive whistle that, after 100 years, still echoes through the West Virginia mountains.
"Artie has become kind of a part of the history of this place," Overton reflects. "He's got a deep connection, not just to Cass, but to the railroad."
Carol Davis is editor of Out Here.