When Danny Ward teaches aspiring farriers how to shoe a horse on his farm in southern Virginia, he is handing down a tradition passed on for generations. No, make that centuries.
It's a craft whose basics have changed little over the span of time, but like so much in agriculture, it has come to encompass a dose of science that continues to transform a trade still rooted in tradition.
Like his father and his grandfather before him, Ward is a farrier, and each year he teaches dozens of people the craft he took on as naturally as strolling beside his father on rural Virginia horse pastures.
"I was doing it before I knew what I was doing, I guess," says Ward, of Martinsville, VA "I think my dad, he made it look easy."
So does Ward, who has been recognized by the American Farrier's Association for his contribution to the industry by winning a stack of awards: Outstanding Clinician of the Year, Outstanding Educator of the Year, and the Edward Martin Humanitarian of the Year awards.
Standing 6 feet, 8 inches tall, Ward's imposing stature catches the attention of his students as much as the horses he works on. And horses usually aren't too keen on sharing their space with imposing figures. But Ward's fans say his gentle, easygoing nature quickly wins over his students as well as his four-legged subjects.
"His main claim to fame is his gentleness, his sincerity," says Dave Ferguson, of Cambridge, MD, president of the American Farrier's Association. "You know when you're talking to Danny, he's listening."
REVERSAL OF FORTUNE
For about 30 years, Ward has run Danny Ward's Horseshoeing School in Martinsville, continuing a legacy his father Smokey started in 1965.
"He shod horses before World War II, when they were used more for work and transportation," Ward says. "Then the '40s came along, and the '50s. Then the tractor came along. All of a sudden, horses weren't used for work and transportation. He kind of got out of it for a few years."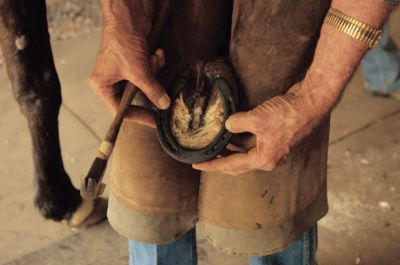 It was a difficult time for farriers everywhere. "During the industrial era in the country, we lost the basic core of our experts, if you will, who had come over from Europe," Ferguson says. "Basically, the only horses that were getting shod during that time were those of the rich and famous."
When the 1960s rolled around, Ward says, the outlook brightened considerably. Work horses became pleasure horses, and the equestrian industry was starting to explode. "By about 1965, he just couldn't keep up with all the work," Ward says.
His father started the farrier school to train others to help him juggle the workload at a time when many farriers had left the industry. But with the new role of horses in society came new needs for horseshoeing. When horses were beasts of burden, farmers didn't expect much more than a regular trim of their horses' hooves and a curved piece of metal nailed in to protect the feet.
These days, when most horses are for recreation, in sports that have become high-dollar activities, the needs for horseshoes have become much more complicated.
Horses may need corrective shoeing or trimming to fix chronic foot problems. A mere millimeter's width in a horseshoe can mean the difference between a horse being sound and being "off." These days, horseshoes are made to fit each individual horse and each individual hoof.
"It's no longer a trade. It's an occupation," Ward says. "It's way more complicated that it was years ago."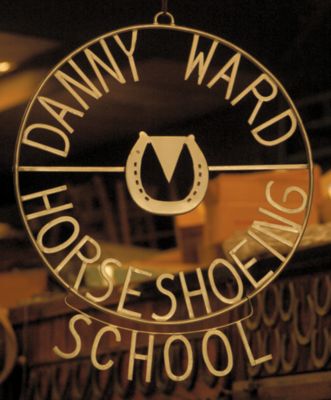 The equipment hasn't changed much. It's still a business of hammers, nails, forges, and metal shoes. What has changed is the precision. Farriers such as Ward find themselves fine-tuning their horseshoes in a way previous generations never dreamed.
Modern-day farriers, such as Ward, buy ready-made shoes sized, like human shoes, for different sizes of horses. Once, only a few companies made horseshoes. Now, a variety of companies make different shoes for front feet, back feet, and different shapes and sizes. Using a gas- or coal-fired forge, Ward heats the shoe to shape it to fit the bends and curves of each horse's hoof, no matter if it's a backyard pony or a champion hunter.
Farriers nail the shoe into the wall of the hoof, the outer edge that, like a fingernail, has no nerves but keeps growing. A shoeing usually lasts six or eight weeks. A good shoe can usually make it two rounds, allowing a farrier to pull it off, trim the foot and nail it on again. Every horse being used needs shoes.
Prospective farriers find themselves taking classes like Ward's to learn a little bit about metalsmithing, a little bit about anatomy, and a bit about dealing with customers.
"The people skills are as important as anything," he says.
For Ward, horseshoeing is still all about the basics. From the fire to the anvil to the hoof, the craft is still, at its core, the same craft it was for his father, his grandfather, and generations before, as long as humans relied on horses for work or pleasure.
"There's so many things they try to bring in and modernize," he says, "but we kind of keep going back to trimming a foot, and rasping it, and putting a metal shoe on it."
David Frey writes in Carbondale, CO.