Melissa Petersen didn't know what she had found. Well, she knew it was an egg. A big egg. But she couldn't imagine what might have laid it. And she couldn't believe it was from one of her family's hens.
But there it was in the yard, maybe three times the size of an average egg, as long as a hand and, like the eggs lain by the family's Araucana hens, a delicate turquoise color.
No doubt about it. The giant egg came from one of their chickens.
Not only was it big. It may be the biggest chicken egg on record.
"I thought that maybe, like, a goose had come into our yard, or some kind of animal came in and laid it," says Melissa, who was 12 when she found the egg last April on her family's farm in Smartville, Calif., about 60 miles north of Sacramento.
Their acre-and-a-half is home to four sheep, three dogs, two cats, two show rabbits, and some 34 chickens that keep her family and friends in a steady supply of eggs. But the Petersens have just three Araucana hens that lay the telltale pale-blue eggs like the mammoth egg Melissa found.
Her mother and grandmother were in the kitchen when she came inside with the morning's batch.
"We all just went, 'Whoa! What in the world?'" says her grandmother, Judy Petersen. "We thought it was a dinosaur egg. We just looked at it for a while and couldn't believe our eyes."
Then they did their homework. The Guinness Book of World Records listed the largest chicken egg on record, collected at a Russian chicken factory in 2004, weighing in at 160 grams (that's about 5.6 ounces). Using a home scale, their prize egg seemed to beat it by a long shot.
But to be sure, and to satisfy the skeptical eyes at Guinness, they took the egg to the Smartville Post Office, then to nearby Penn Valley's Post Office. They confirmed it. The egg weighed it at 181.43 grams, about 6.4 ounces — far more than the record holder.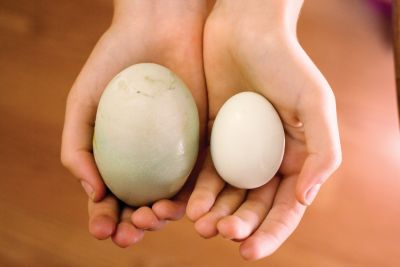 "It was even bigger than I thought it was," says Melissa's mother, Kathy Petersen.
Guinness has yet to confirm the find, but in the meantime, the proof is in the fridge. The Petersens want to preserve the egg as long as they can to prove to skeptics it's as big as they say it is. Then, they say, they'll try to blow out the yolk and save the turquoise shell for posterity.
As for the hen that laid the giant egg, she seems no worse for wear. They can't figure out which one laid it.
"They were all clucking out there," Judy says. "I don't know whether she clucked any extra or not."
The Petersens are used to good eggs from their brood, but they've never seen anything like this. They're also used to getting double yolks from time to time. But since they can't peek inside the shell, they have no idea what's inside. Triplets? Quadruplets? Or one giant yolk? Who knows?
What's the secret to getting such a massive egg? The Petersens are stumped. Their flock eats DuMor chicken feed, they say, then free-ranges for what ever they find in the yard.
"Maybe," Kathy muses, "she ate a couple extra worms."
David Frey writes in Carbondale, CO.