Ken Nyberg pulls down his face shield and picks up his wirefeed welder and a piece of lawnmower blade that he's cut and pounded into shape.
He places the piece next to another blade and pulls the welder's trigger, fusing the blades within seconds. Nyberg steps back to inspect. Satisfied, he picks up another blade and repeats the process as a rhinoceros horn slowly takes shape.
"It's just patience and time," Nyberg explains, as he studies the 6 1/2-foot tall metal rhinoceros materializing in his Vining, MN, workshop.
Nyberg, 68, spent 42 years building practical things — grain elevators, feed mills, and fertilizer plants.
But on his own time, Nyberg has used his building and welding skills for whimsical — even odd — creations. His first, about 18 years ago, was a foot with a swollen big toe, made from scrap metal and based on an idea he'd whittled from wood. The 11-foot, well, foot took 2 1/2 years, working in bits and pieces of time.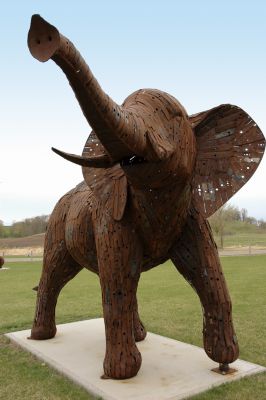 Nyberg's neighbors loved the foot and gave it a prized location not far from the Purple Palace restaurant on Vining's five-block main street. Several years later, when a convenience store was built, owners named it Big Foot Gas and Grocery.
Soon, Nyberg had playful creations scattered all over Vining — a tipped coffee cup, a square knot, and an astronaut to honor his daughter, Dr. Karen Nyberg, a NASA astronaut who is awaiting her first Space Shuttle flight.
The nearby New York Mills Regional Cultural Center commissioned him for a particularly big job — to build their logo, a tractor. The finished project weighs 2 tons and measures 20 feet long, 4 feet wide, and 17 feet tall.
Nyberg creates small pieces, too. In his menagerie of commissioned animals are an otter, lion, panther, hummingbirds, ravens, blue herons, and an eagle for a flagpole.
Whether he's creating an oversized tractor or a school mascot, Nyberg's process is consistently the same. He starts with a small figurine or a drawing, calculates the proportions to enlarge it, and then uses rebar and mild steel rod to create the basic frame.
Once he has the shape, Nyberg welds scraps together "like making a crazy quilt." He cleans up his welds with a wire brush and paints most of his sculptures.
A few years ago, someone gave him a stash of used lawnmower blades. About 1,000 blades and several thousand spot welds later, Nyberg had a full-size, 9½-foot-tall elephant. After he moved the elephant to Vining's park — now named after Nyberg and filled with his metal muses — more lawnmower blades poured in. The rhinoceros emerged from them last winter.
After four decades of working to build sensible projects, Nyberg has found his niche in the whimsical.
"I love it," Nyberg says. "These are the best years of my life."
Dee Goerge, a Minnesota writer, has watched as Ken Nyberg's sculptures multiply in Vining.