It's 3 a.m. in February, an arctic wind is howling outside, a single bare light bulb casts a dim glow across your barn walls, and your ewe is ready to deliver twins lambs.
You're kneeling in the hay next to her, comforting her and nervously trying to calm yourself, with a book open to the chapter on birthing baby lambs.
That is the kind of self-sufficient person who turns to Storey Publishing for help and advice, says Pam Art, president and CEO. Indeed, her company produces books that practically have become classics to those choosing the rural lifestyle.
Storey's Guide to Raising Chickens, The Vegetable Gardener's Bible, Barnyard in Your Backyard, At Knit's End and Keeping Life Simple are among the company's best-selling books that provide nuts-and-bolts, practical, and, most importantly, dependable advice on raising livestock, growing a garden, home renovation, cooking, and well-being.
That's why, at Storey, experts write the books. And experts edit the books.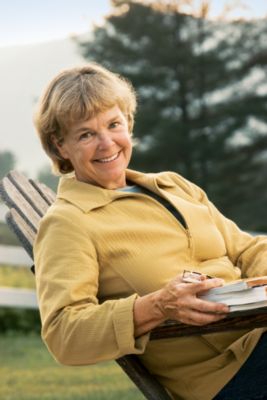 Pam gardens, knits, crochets sweaters and rugs, and collects yarn. Editor Gwen Steege raises her own sheep, spins their wool, and grows lavish gardens. Other editors ride horses, craft, and raise livestock.
At Storey Publishing, they practice what they publish.
MAKING THE LEAP
Pam took a risk in 1983, leaving her newspaper job to join John and Martha Storey in their startup book publishing venture.
The Storeys acquired Garden Way Publishing, which originally printed country-living how-to booklets for its affiliate, Troy-Bilt, the lawn and garden equipment manufacturer. Subjects included buying land in the country, how to grow a successful vegetable garden, and where to find a pleasant place to live.
"It appealed mightily, I would say, in early 1970s to the back-to-the-land movement that was under way," says John, who headed up Garden Way's research and marketing.
They recruited Pam as "editorial traffic cop," which meant she did everything from writing heart-felt rejection letters to writers to paying authors to working with artists and illustrators.
The trio found early success with The Joy of Gardening by Dick Raymond. "It sold very fast and became one of the all-time, best-selling gardening books," Martha says. "It's still a very good book. I refer to it on a regular basis."
As the company grew and staff was added, Pam worked her way up through the ranks, becoming an acquisitions editor, then managing editor. Now, nearly two decades later, as president and CEO, she maintains the Storeys' habit and philosophy of gleaning country-loving editors.
"They increased the expertise of our staff," Pam says of her mentors, who left the business in 2001, "and helped bring us to the next level."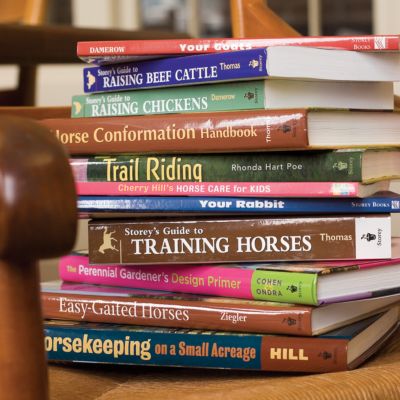 It also helps that Storey Publishing is based in rural western Massachusetts, in North Adams, a town of about 15,000 — the kind of place that cultivates country living.
GARDENS GALORE
Glance around editor Gwen Steege's home and you'll probably figure what kind of book she's editing at the moment.
"When I was editing a vegetable gardening book, I had a fabulous vegetable garden," she says. "Now, I'm doing a flower gardening book, so I can't wait to see how my flowers turn out."
Gwen knows the feel of dirt under her fingernails and how to coax a seedling into producing tasty tomatoes, and she brings that experience to every gardening book she touches at Storey.
Embracing the "do it yourself" country lifestyle that Storey encourages is what makes Steege and her colleagues such fine editors, Martha says.
"All the great editors and designers were going home and actually living what was being written about," Martha says. "When people are passionate about their life and their jobs because they're so intertwined, it makes coming up with ideas and being successful a whole lot easier."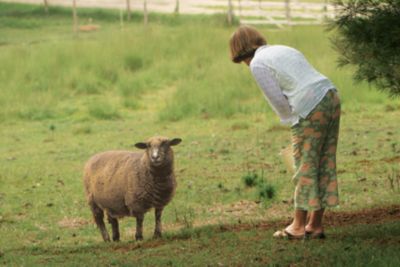 Indeed, not only does Gwen love attending gardening conferences and visiting gardens across the country, but it also keeps her green thumb on the pulse of emerging trends. For example, people are going "deeper" into gardening by specializing in, say, perennial gardens; designing gardens for color and texture; or focusing on heirloom varieties.
When Gwen is home, you might find her weaving, knitting, or even spinning her own yarn — with fleece from her own sheep.
She and her husband have three Romney sheep, which produce lustrous fleece in white, gray, and black. "It's fun to dye the fleece and figure out what to do with it," Gwen says. "I have baskets of fleece sitting around my house."
Crafters may not go to the trouble of spinning their own yarn, but Gwen knows from experience that knitters, crocheters, and other fiber artists clamor for patterns and information, so Storey began a selection of books for them.
"When I saw the knitting craze start, I jumped in," Gwen says, referring to the recent resurgence of knitting.
STOREY'S STORY:
Storey Publishing has 412 titles in print
Tractor Supply carries about 37 of those titles
Storey has sold more than 34,524,000 books and bulletins since its beginning
Book prices range from $4 to $40, averaging about $16.95
How high should your horses' fence be?
What's the best way to protect the stitchery on your leather tack?
How can you get your finicky horse to eat?
The answers to these, and more, horsekeeping questions can be found in Heather Smith Thomas' book Stable Smarts, which covers feeding, foaling, fencing, trailering, camping, knot-tying, and much more.
And that's exactly why practicing what you publish equals success, Pam says.
"They know if something is a great idea," she says of her editors. "They're not just guessing it's a great idea."
HORSE SENSE
Heather Smith Thomas was a college student homesick for her horses, so, as a writer, she did the logical thing: She wrote a book.
A Horse in Your Life; A Guide for the New Owner, published in 1966, was the first of more than a dozen she would pen for livestock owners, including several for Storey.
They include: Storey's Guide to Raising Beef Cattle; Storey's Guide to Raising Horses; The Horse Conformation Handbook; and her newest, Stable Smarts.
Heather and her husband, Lynne, have cattle ranched since 1967 near Salmon, Idaho, on the family ranch where Heather got her first horse in 1953, at age 9.
"He was an old, wonderful horse named Possum," Heather recalls. "We had no idea how old he was; probably in his early 20s."
Heather's saved pennies — totaling $5.55 — went toward Possum's purchase price of $50. To most, Possum was an average horse — "not horribly beautiful," she says — but this bay with a broad blaze on his face meant everything to a horse-crazy little girl. Still does. "He was my beloved first," Heather says.
She would have plenty more throughout her life, many bred specifically to work the 180 cows that they ranched for decades.
They've thinned their herd to about 30 favorites, but continue to help out their son, who works part of their ranch.
Heather's books remain popular and she enjoys mail from new readers. "One little girl wrote with questions on her own horse," she says. "Part of my purpose in writing is to share. We learn all we can and then try to share."
Carol Davis, Out Here editor, is addicted to gardening books.