10 TIPS FOR PERFECT GINGERBREAD PARTIES
Do as much beforehand as possible. Think in terms of three steps that can be done on separate days as early as one month before your party. Step 1: Mixing the dough (about one hour); Step 2: Rolling, cutting, and baking the dough (about 2-3 hours); Step 3: Assembling the house (about 1 hour).
Double your frosting recipe. You'll need extra for snowy yards or additional decorating.
Ask each guest to contribute a bag of candy. Separate the candies in muffin tins or other small dishes.
Cover your work area with newspaper or a disposable tablecloth for quick cleanups.
If time is tight, use store-bought cookies in shapes of Christmas trees, Santa, snowmen, etc., to decorate the yard.
For inspiration, clip magazine pictures of gingerbread houses or create houses described in favorite books.
In making houses for children, remember their short attention spans. Provide large candies to fill up the house quickly, and place the house on a base that allows a yard no bigger than 4 inches around.
Use tweezers to apply tiny candies.
Consider hosting a gingerbread party with a birthday, Halloween, Valentine, the Fourth of July, or other "non-Christmas" theme.
Snap pictures before everyone takes their treasures home.
A class on making gingerbread houses did more than teach Lori Nerbonne a new skill; it enriched the lives of everyone in her family and ultimately led to a new career.
"We were looking for ways to entertain our kids when we all got together for the holidays," recalls Nerbonne, of Bow, NH, who took the class 16 years ago with her mother and sister.
Nerbonne created three gingerbread houses for youngsters to decorate after Thanksgiving dinner that year.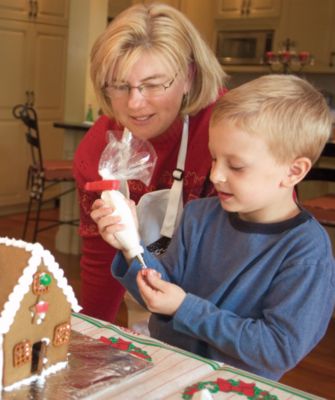 "The kids had a ball," Nerbonne recalls, "but what was more surprising was the interest of the adults who also wandered over to the table and worked on the houses."
As Thanksgiving approached each subsequent year, Nerbonne's adult relatives asked for their own houses to decorate.
Gingerbread house parties have become a favorite family tradition, where grandmothers team up with teenage grandsons, children work with aunts and uncles, and in-laws help each other.
"I don't think there is any other activity that could be enjoyed equally by young children, teenagers, and men and women," Nerbonne says.
The houses are becoming more elaborate as the now-experienced gingerbreaders compete to make the most beautiful or unusual gingerbread house — Santa sleighs made from pretzels and candy canes, heart-shaped windows created by putting two candy canes together, and "pinwheel" fences crafted of pretzel sticks and round candies.
"One year, my brother-in-law decorated his house with only white candies so it looked like a winter wonderland," she says. "Anything goes when it comes to gingerbreading as long as you're having fun."
GINGERSNAPS
Nerbonne has also spread the joy that gingerbreading has brought to her family by teaching classes all over New Hampshire.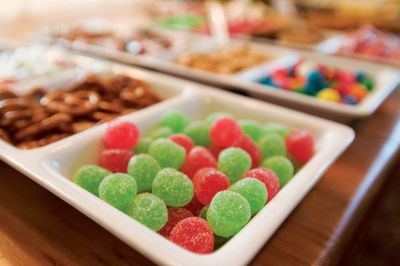 "It's amazing how gingerbreading brings … families closer in the same way it brought together my family," Nerbonne says. "Spending time together is what the holidays are all about and this activity slows people down so they can enjoy each other's company."
With every gingerbread house Nerbonne bakes, she looks for ways to make the process simpler, a goal that ultimately led to her new business. "I had cut patterns from cardboard and laminated them to make them last longer, and other gingerbreaders started asking to borrow my patterns," she says. Those requests got her thinking: "Wouldn't it be great to be able to buy washable, reusable patterns pre-made?"
After much testing, Nerbonne found perfection in a stenciling plastic; it laid flat on the dough without causing indentations, was easy to cut around, and could be washed and reused.
Nerbonne worked with the plastic manufacturer and soon Gingerbread Village, LLC began with gingerbread house kits sold under the name "Gingersnaps."
Her kits include patterns, recipes, and instructions for making candy cottages, churches, and castles — just the right ingredients for a fun family tradition.
Laura Flynn McCarthy is a New Hampshire-based freelance writer.