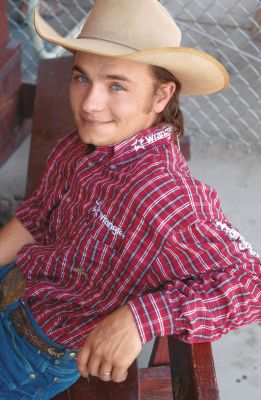 Will Lowe's life is made up of eight-second bursts of pure adrenaline and power, followed by long hours on the road.
That's the life of a rodeo rider.
At 23, the Canyon, Texas, cowboy has become one of the top bareback riders in the country, capturing nearly every major title in the Professional Rodeo Cowboy Association.
He was the world's championship bareback rider in 2003, before he was even old enough to raise a glass to celebrate. The same year, be broke ProRodeo's prize money record, and he's a consistent winner on the rodeo circuit.
His young age and stunning success have put him head to head against the cowboys he grew up calling heroes. Now, he calls them fellow competitors and friends, and Lowe, who has dreamed of being a rodeo cowboy since stomping around the house in cowboy boots as a kid, is doing what he loves.
"It's what I've always wanted to do," he says. "I figured it would just happen. I just always did my best and things worked out real good for me."
Lowe's best is better than most. He's quickly become a regular at the top of the rodeo circuit. When he settles in the chutes and wraps his leather gloves around the rigging, fans know the gates could swing open on a wild ride.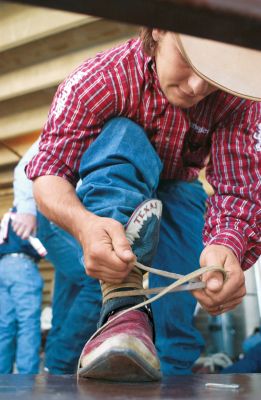 PINT-SIZED COMPETITOR
His early success comes from starting in his sport so young, he says. Lowe was 7 years old when he first tried his hand at bareback riding. As a boy, he was too small to fit in a bucking horse saddle and his parents wouldn't let him ride steers. So Lowe turned his attention to bareback.
"I always had the most fun riding bareback horses and that's what I was best at," he says.
Lowe was raised among rodeos. Growing up in Olathe, KS, he started attending American Royal rodeos in Kansas City before he could walk or sit astride a pony. Cowboys were in his blood. His grandparents had cattle and horses, and he grew up in a ranching environment.
His wife Tiffany is a champion barrel racer from Gypsum, CO. Three years ago, the two were married during the National Finals Rodeo in Las Vegas. As soon as the reception was over, Lowe was back to the arena and back in the rigging.
The next day, Lowe stunned the crowd with one of the most amazing performances in NFR history and set a new arena record, racking up 91 points.
Wild rides are what Lowe lives for. His first time out on a full-sized horse, at 14, Lowe was thrown off and broke his arm, but it didn't keep him off for long.
In 2002, one day after another fall had knocked him unconscious, the horse Fantastic Sam sent Lowe soaring toward the top of the Houston Astrodome, but his hand was caught in the rigging. When he pulled himself loose, he landed head on the ground, feet straight up in the air.
Lowe lifted himself up and stumbled out of the arena. "Everyone watching thought I broke my neck," he says.
But done right, wild rides mean big points. At the 2003 Tour Finale, Lowe held on to the aptly-named horse Skyreach for the ride of his life, racking up 91 points while the horse sent his feet flying above the rigging.
"She just jumped out of there and turned back and kicked over her head," Lowe says. "The horse is an extraordinary bucker."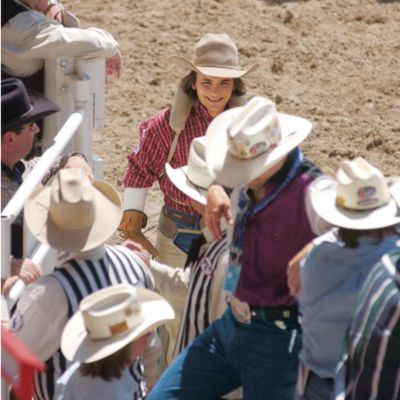 PERSONAL BEST
It's an unusual relationship between horse and rodeo rider. They are opponents, but they're also a team. Riders like Lowe look for a horse that will give them a thrashing without toppling them off. They'll buck high and send the points higher.
"It's really us trying to work together to see how good we can do," Lowe says. "It's really not against the other guys that are riding. It's us just working together to see how well we both can perform. Not against each other. Not against other competitors. Just personally."
These days, rodeo is more than a spectator sport. It's a televised spectacle, with plenty of glitz, glamour, and adrenaline that keep the fans coming back for more.
"It's the original extreme sport," Lowe says.
But the 21st century rodeo hasn't changed the spirit of a contest that has its roots in ranch hands showing off their moxie and their mettle.
"At heart, it's still the same," Lowe says. "It's still rodeo. But with things getting bigger — TV — it's getting different. But I think at heart, it's still rodeo. It's a way of life and it's always going to be a way of life. You have true competitors and true cowboys."
David Frey writes in Carbondale, CO.