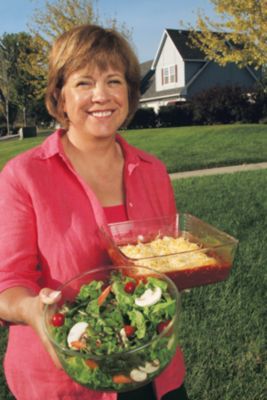 Your day has left you feeling fatigued and the thought of preparing the family's evening meal is just a bit more than you can handle. But fast food isn't an option; you want your family to have a nutritious meal.
Mary Eileen Wells and Dee Sarton Bower knew the feeling well, as do most working Americans. But Wells and Bower decided to do something about it.
Reclaiming time around the family dinner table was much too precious to leave to chance, they thought, so the two Idaho neighbors began a cooking co-op with two other cul-de-sac families.
Here's how it worked. Each mom would cook one meal big enough to feed four families. Wells' night was Monday, and she would cook and deliver the food to her co-op partners. On Tuesday, Wednesday, and Thursday, meals cooked by one of the other co-op partners were delivered by 5 p.m. in Pyrex dishes to her home, ready to eat.
The result? Years of nutritious home-cooked meals, a camaraderie of shared values, and lifetime friendships, as well as cost savings.
And a book, too. The pair co-authored Homemade To Go, which provides an in-depth look at making a cooking co-op work.
"Everyone really bonded. We all became like family," Wells says. "We had the co-op meals Monday through Thursday. On Fridays, a lot of us often ordered pizza. Weekends, we had some leftovers for some of our meals. It was great."
STAY ORGANIZED
A successful cooking co-op takes work and organization, Wells says.
"You have to choose families who are similar to your own," she explains. "You have to stay extremely organized, and you have to want it to work."
Here's how Wells and her neighbors made it work for five years:
Choose a few families in the neighborhood with whom you may have a rapport or at least a nodding friendship. Choose similar-sized families, and set a dollar amount that you will spend for the night you each will cook. In Wells and Bower's case, it was $25.
Have meetings with the adults and the children to determine their favorite foods and whether anyone has allergies. Cook appropriately.
Use a planning calendar menu, where meals are plotted out for a month in advance. This ensures a wide variety of foods and a nutritional balance.
Observe all rules of food safety, particularly for temperature-sensitive foods such as potato salad. At first, keep it as simple as possible, getting a bit more creative with the recipes as time goes on and you get used to the rhythm of cooking for four families at a time.
Make sure delivery is not a problem; choose families located pretty close together. In Wells' case, the children frequently delivered the meals themselves.
Have follow-up evaluation meetings every so often to determine the success and failure of cooked foods.
CREATIVE AFFORDABILITY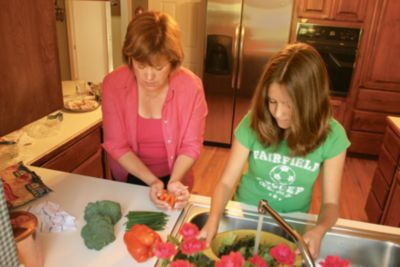 A cooking co-op not only saves time, it saves money, too. "It was very affordable. We had the spending limit, and we would get creative and go to (a discount membership warehouse) or somewhere similar to hold down the amount," Wells says.
It often is much easier to cook for a large family than it is to cook for just two or three people, she says. "We found bargains in larger packages," she says.
Wells recommends trying a co-op for a time to see just how well it works. If all goes well, you might even consider investing in a common freezer for everyone in the co-op to use. This makes the co-op even more affordable because ingredients used in a large number of recipes can be frozen and available to all as they need them.
A co-op also saves time. "You don't have to go anywhere. No packing of toddlers into the car. No traffic. No hassles," she says. "No commute, and dinner is right there."
The co-op gave her an incentive to cook her best recipes and to cook them very well, because her neighbors were going to be eating them.
"I still get hugs from the teen-agers who ate the foods as they grew up," she says. "I still get them requesting me to make some of their favorite dishes. That's a good feeling."
Susan Shea is a freelance writer who lives in rural Ohio.