ALMOST LIKE HOME
It was a week before Christmas 1944, and Joseph Fecher was an 18-year-old sailor on leave from his Maryland naval base, lonely and far away from his Ohio home.
"When I sat down on a stool at the USO counter in Baltimore's Union Station, a gray-haired, smiling lady brought me a cup of coffee and a doughnut without me asking," Fecher, of Brookville, Ohio, recalls. "Before I knew it, she had invited me to her home for Christmas."
Christmas Eve was spent with the woman's family, enjoying a meal with laughter and good will, followed by a midnight mass at a nearby Catholic church.
"With my eyes closed and singing the traditional Christmas carols, I almost believed I was home."
"It was only when I crawled into bed in the room I was given that I understood why they were treating me so very special," he says. "There, sitting on the dresser was a picture of a young man dressed in Navy blues that had to be their son."
The next day, his new friends told him about their son, who was stationed on an aircraft carrier in the South Pacific. They were understandably worried.
Later, they drove Fecher back to Union Station so he could catch a train back to his base.
"With a handshake from Dad and a hug from Mom, she handed me a pen and roll of stamps. 'Please write to us and let us know how you are doing,' were her parting words. And so I have."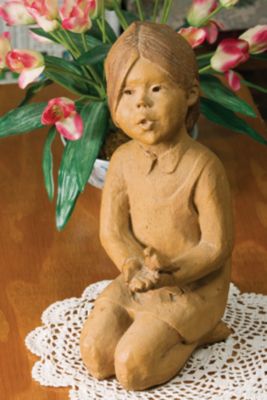 LOST TREASURE?
Lou Bulebosh admired the terra cotta sculpture of the little girl each time she walked by the drugstore display window.
"It was a sculpture titled Girl with Bird, and she was sitting on her heels with her hand out in front of her and her palms up, and there's a bird in her hand," Bulebosh, of Plymouth, WI, recalls. "She's looking up into the sky and she has a look of surprise, like, 'where did this bird come from?'"
One day, as Christmas 1973 approached, she noticed that the favorite display was gone. "I was really disappointed when I passed the window," she says. "I thought, 'I should have bought it when I had the chance.'"
But she needn't have. That Christmas, Bulebosh opened a gift box from her husband, and inside was the treasured sculpture.
For more than 30 years, she's gotten to admire the little sculpture each day. "I have it sitting," she says, "in the front room."
SUGAR AND SPICE
Phyllis Senske can glance around her Rapid City, MI, home and see numerous holiday gifts that mean much to her — for different reasons.
"My new computer with the email is something I use nearly every day," she says.
"The handmade quilt my maternal grandmother gave me for my 10th Christmas is displayed on the beautiful rack my husband made several years ago. These are certainly treasures as they represent the kind of love that only handcrafted — one of a kind — items represent.
"However, the 'best loved' or 'most loved' holiday gift was the birth of our sixth child and only daughter, Joy, on Dec. 4, 1975."
The Christmas gifts most cherished by Carol Davis, Out Here editor, are a quilt made by her mother and a quilt rack built by her father.