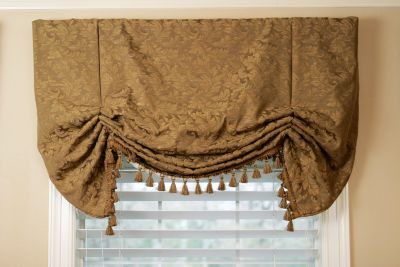 Decorating windows doesn't have to be the expensive endeavor many homeowners believe it to be, designer Margarett DeGange says. With a little creative flair, and even less money, window treatments can cozy up a space, be a focal point, or pull an entire room together.
And you'll find many ways around the tried-and-true blinds and drapes, she says.
For example, in a jungle-themed children's room try long-armed stuffed monkeys to tie back shower curtain panels, which are available in a wider variety of colors and patterns than ever. If monkeys don't suit the room, try teddy bears, dolls, or ribbon.
"It adds whimsy to the room to do something like that," says DeGange, owner of DeGangi Interiors in College Station, Texas, and a board member of the Window Coverings Association of America.
In a southwestern-themed room, mount horseshoes above each side of a window and drape fabric across them, or let the fabric dangle to the floor. Finish with western-inspired rope or fringe at the ends of the fabric.
If horseshoes don't work for you, mount something unique, such as a horizontal-shaped mirror or unusual piece of wood trimmed with beads, over the window and hang fabric.
Another option: tablecloths, which are already hemmed. Use beads, ribbon, and other trimmings as embellishments. To save big, and if you're in no hurry, wait until after Christmas to buy, when tablecloths in rich shades of green, gold, and maroon go on sale.
DeGange tells of one client who bought drape panels for less than $10 each. Together they added coordinating fabric to the bottoms of each panel and trimming.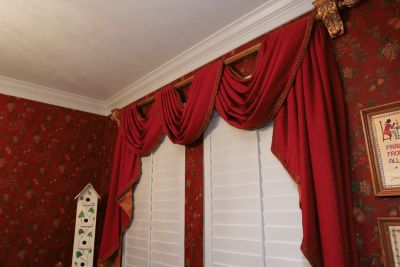 "It was probably one of the most beautiful treatments I've done," she says. "A lot of times it's going and buying something cheap and embellishing it."
Before putting together a window treatment, consider how much privacy is required. Drapes, Roman shades, shutters, and roller shades give the most privacy. Roman shades are not difficult to make, and books with instructions are widely available.
Remember that lining can help insulate windows and protect fabric from the sun, particularly silk, which can deteriorate rapidly in sunlight.
Window treatments are best at smoothing lines. A bare window is stark, and draping gauzy fabric from it softens those lines. Using fabric with a lot of different colors pulls the diverse colors of a room together.
"It just gives," DeGange says, "a finished look to a room."
Freelance writer Amy Green lives and works in Nashville, TN.