Rebecca Miolen sees hope in horses when others see only heartbreak.
After taking in her first mare rescued from malnutrition and neglect five years ago, the recent high school graduate from Newnan, GA, has dedicated herself to giving better lives to abused horses.
One at a time, she has made a difference. They come to her skinny and skittish, sometimes with wounds on the outside, but always with wounded hearts. She gives them the food and care they'd been deprived of, but mostly she gives them love, mixed with a lot of patience. Over time, they give it back.
"An abused horse is just as good, if not better, than a top-trained horse," Rebecca says. "The difference, I guess, is they aren't loved and given a chance."
Rebecca has cared for several neglected and abused horses on her own, slowly bringing them around and getting them used to hands that won't hurt them. She has blown the whistle on three other abuse cases herself, and raised hundreds of dollars for the Georgia Equine Rescue League and Foal Rescue by organizing a yard sale and pony rides.
Her work won her top honors in last year's Because You Care awards, sponsored by Farnam Horse Products, for individuals who have provided an outstanding effort in improving the health and welfare of horses. The award included $2,500, money she turned around to cover the costs of caring for the horses she's taken in.
COMPASSION AND CARE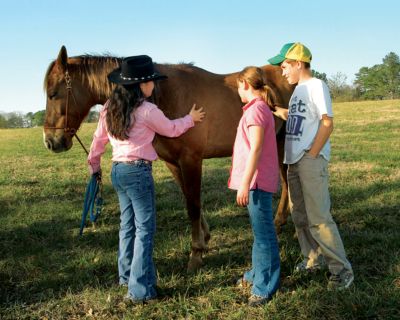 For Rebecca, it all started with an Appaloosa named Pepper, a 10-year-old mare as fiery as her name.
In love with horses but unable to afford one herself, Rebecca took part in her 4-H Club's gift horse program. The program offers free horses, but the animals come rescued from situations of neglect and abuse, and even getting near them can be a challenge.
"They found Pepper in an abandoned pasture with a foal, and there wasn't any grass, any hay," Rebecca says. "She was really neglected and starved. I fell in love with her because she was my first horse."
For Rebecca, her mare's past didn't matter. She resolved herself to do whatever it took, and as long as it took, to bring Pepper around to competition level. She did. But before she could even get on Pepper's back, Rebecca had to earn her trust.
"I started from the ground up," she says. The two ended up teaching each other, as horse and rider. Rebecca says Pepper taught her to ride. She taught Pepper to lose her fear. Some, though, wondered if the rambunctious Pepper would ever settle down and come to accept a saddle.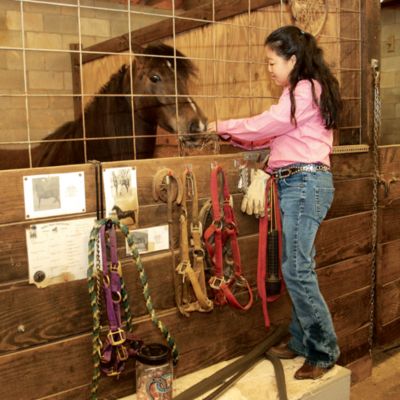 "The horse was a handful," says Pam Brinton, a volunteer leader with Rebecca's 4-H Club. "As stubborn as that horse could be, Rebecca could be just as patient."
Rebecca was dedicated, Brinton says, but she was also compassionate. For most of her life, she has suffered from a blood disease so rare doctors don't have a name for it. It has left her tired and anemic, often shuffled from hospital to hospital, and medication to medication.
"I think sometimes when somebody's been through a lot of hard stuff themselves, it makes them a more compassionate person," Brinton says. "She has a heart for the less fortunate."
Rebecca says she never thinks about that. But she knows when her low blood levels leave her feeling run down, horses help bring her around.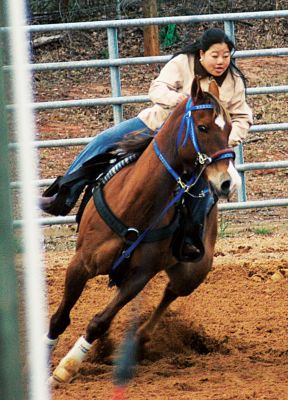 "I just think horses are the best medicine," she says.
Rebecca has worked to improve the world around her in other ways, too. Her high school's Envirothon conservation club won Georgia's state competition last year. Her 4-H Club's adopt-a-stream cleanup program won a 10-state regional award that sent her and her colleagues to Washington, D.C., where President Bush flew in by helicopter to honor winners from across the country.
Horses are her first love, though. Aside from healing the wounds left by abuse and neglect, Rebecca is working to improve her own horsemanship, in both English and Western riding, and she gives lessons to help other 4-H members improve. Her passion for horses, and for making a better world, are contagious, Brinton says.
"She inspires the other youth to think, 'I can make a difference! I can do this, too!'" she says. "Not everyone has the confidence."
Rebecca plans to stay involved in rodeo clubs and equestrian teams throughout college. After she graduates, she says, horses will always be part of her life, no matter what she does for a living.
She will always be a part of their lives, too.
"They've given so much to me," she says. "I want to do what I can for them."
David Frey is a writer in Carbondale, CO.