When her young husband died tragically, leaving Martina "Teena" Borek with two toddlers, life might have been much easier had she packed them up, left Florida, and returned to her native Newfoundland.
But taking the easy way out is not in Teena Borek's nature. Neither is giving up on a dream, specifically her husband's dream to create a farm that their boys could one day run.
Now, 25 years later, Teena Borek still lives in Florida, running Steven Borek Farms, with her two sons, Steven Jr., 27, and Michael, 26, right beside her.
She must be doing something right. The farm continues to thrive. Her fields are full. And she was named Florida's Agricultural Woman of the Year for 2004.
DISAPPEARING FARMLAND
"Are they picking over in your field?" Teena asks Michael as she glances around, searching for the field hands who were picking tomatoes there just a couple of hours earlier.
She shields her eyes from the bright Florida sun as they scan the 15 acres of fields that once matched thousands of acres of open farmland around Homestead, FL, about 20 miles south of Miami.
Now, her property and all that goes with it — farm machinery, packing sheds, and other outbuildings — are wedged in between two upscale housing developments.
Still, pockets of farmland dot the landscape around Homestead, and Teena and her sons lease about 500 acres to grow tomatoes (including 25 varieties of heirloom tomatoes), beans, sweet corn, peppers, and a bit of gourmet baby squash for local upscale restaurants. Some fields are up to 20 miles away from their home farm.
"We used to grow potatoes there," she says, gesturing from behind the wheel of her pickup truck to the manicured yards of a relatively new housing development just a stone's throw from her farm.
She'll repeat the phrase several times, changing only the name of the crop. They grew seed corn in one field. Beans in another. Tomatoes in still another. What remains consistent is the disappearing farmland. Now, they have to search farther and farther to find it.
IN THE BEGINNING
Before she married a farmer, the extent of Teena's agricultural knowledge pretty much was contained in a little garden at her parents' home in Pointe Verde, a small Newfoundland coastal town.
"We had a potato garden there, and some turnips," she recalls. "It was cold there, so we had all root crops."
"I only saw corn in a can," she says, with a smile.
But when a teenaged Teena visited her aunt in Florida one summer and the neighboring farmer's son, Steven Borek, caught her eye, farming took on a whole new meaning.
She soon learned how to drive Steven's father's tractor, and plowed and disked fields.
Teena returned to Newfoundland for college, but eventually returned to Florida to become a farmer's wife. She and her husband started their own farm, Steven Borek Farms Inc., on the 15 acres where she still lives.
Steven farmed about 500 acres, growing seed corn, beans, potatoes, and tomatoes, while Teena handled bookkeeping and caring for their two young sons.
But tragedy struck the young family in August 1980 when Steven's truck tumbled into a waterway that adjoins their property. He was 24 when he died, leaving Teena with toddlers, just 1 and barely 3.
Everyone expected her to pack up her boys and go home to Newfoundland, she says. They were surprised when she chose to continue the life she and her husband had started.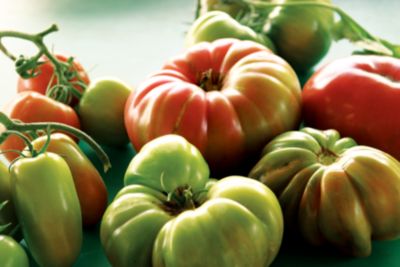 "Steve was building a farm for the boys and we had just bought a new home in July," Teena says. "I owed lots of money that had to be repaid." Her best option was to stay put.
The young widow took the helm and ran the farm — but with plenty of help.
"I was the most fortunate person," she says. Supported by both her and Steven's families, Teena set out to learn the nuts and bolts of farming from the Tropical Research and Education Center scientists, extension agents, and fellow farmers.
"They taught me about soil, water, nutrition, which fertilizer to use," she says. "Between the extension service and the research center, I learned a tremendous amount."
Countless others were there to lend a hand, too.
"Of course, the growers of Homestead were a big help, but that's not unusual for people in agriculture," she says. Indeed, farmers may be competitors, but they'll always help out a fellow farmer, which makes the industry unique, Teena says.
"Even now, today, I can call Long Farms — their father (William D. "Billy" Long) was just inducted into the Florida Agriculture Hall of Fame — and I can ask, 'What is the best feed lot to buy?' and they'll tell me," she says.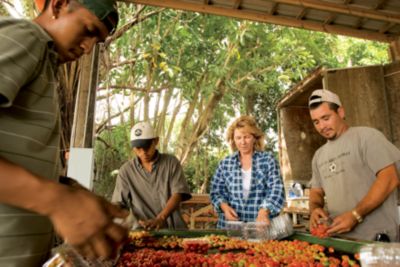 Teena's family — parents, sisters, cousins, or in-laws — spent every growing season, from September to April, at her house to watch over her boys while she ran the farm. "My family was always there to help and they made a tremendous difference," she says.
One advantage in those early days: she was already familiar with the farm's operations, such as what was being grown and where it was sold. "My husband and I communicated all the time," she says. "I may not have been out in the fields, but we discussed everything going on, so I always knew what he was doing and he always knew what I was doing."
It wouldn't take long for Teena to know exactly what she was doing.
OVERCOMING HARDSHIPS
Teena, along with farm foreman Julian Dahl, worked long and hard to make the farm work; some days stretched into 24 hours.
"It was a lot of hard work, but I enjoyed it," says Dahl, who worked there for 20 years before retiring to Minnesota.
Teena, meanwhile, always looked for ways to improve and streamline her farm operation, which, at one point, totaled about 1,000 acres. She would become known for trying cutting-edge techniques.
"Nothing was done because, 'It's always been done this way,'" she says. "If I saw something new, I'd try it."
She was the first Dade County farmer to use a linear irrigation system and the first Homestead vegetable farmer to conduct business with a computer. And for years, she worked with researchers to develop higher-yielding and more nutritious crops.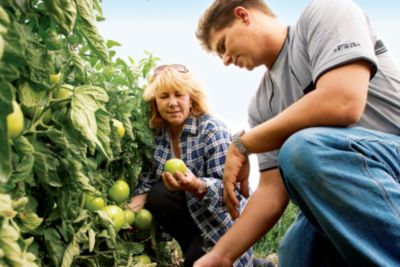 The goal? Efficiency for the environment, equipment, and labor. "I always look for things where I can push a button to start it," she says with a chuckle.
Still, as a farmer, she is at the whim of the weather, and she suffered setbacks. After several killing freezes, Hurricane Andrew devastated the Homestead area on Aug. 24, 1992. Teena, like others, lost almost everything in the costliest disaster to hit the United States. Most of her equipment was damaged, her irrigation system blew away, and her house's windows were blasted out.
But she rebuilt the farm, and has managed to thrive despite inconsistent weather and markets. Indeed, plummeting prices and spiraling production costs have caused many of her fellow growers to stop farming, but Teena continues to adapt by changing crops and adjusting the acreage farmed.
'TEENA'S PRIDE'
If you wonder why she's continued to stick it out, and she'll give you two reasons: Steven and Michael.
"It was the boys' future. That's what their father would have wanted," Teena says. "The farm was for our sons."
And these third-generation young farmers feel as strongly about it as their parents and grandparents. "I have two young men who love agriculture and I see in them the future of our food supply," Teena says.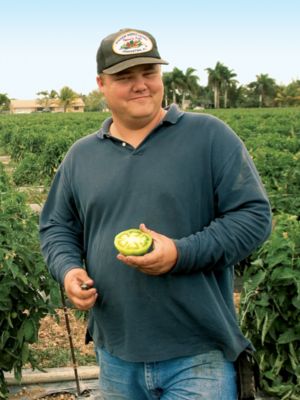 Steven Jr., a farmer since the beginning, went to school to become a diesel mechanic and spends his days either in the fields or repairing machinery. Farming, however, is just one passion; the other is flying, and he recently received his commercial helicopter license.
Michael didn't care to farm until he went to work in retail after getting a degree in business and international marketing. He decided to be his own boss and do what he knew best, so he returned to the farm about 1½ years ago. "I started to like to see the plants grow," he says. "I never really cared about it before I went away to school."
Michael maintains his fields, handles the farm's paperwork, and takes care of the work crew, Teena says.
"They complement each other," she says. "It's really nice."
Indeed, the slogan on her produce's packaging says, "Teena's Pride," but don't assume it refers to her vegetables.
Her real pride and joy are her boys. They are the best thing she's raised, she says.
"They were always on the farm, from the time they were small. They were always doing something. And they're none the worse for wear," she says.
"Close to the earth is a good thing."
Carol Davis, Out Here editor, also grows heirloom tomatoes but on a much smaller scale.