Janet and Wayland Efird had no intention of raising goats. They bought Sugar, a white pygmy, 10 years ago because their daughter wanted a pet, then decided Sugar needed a companion so they bought Honey.
Honey had two babies, and one goat led to another.
Now, they're raising 22 miniature goats in a barn behind their house on 5 acres in rural Red Cross, NC, and most of their free time goes to caring for the herd.
"We fell in love," Janet says. "Once you see them, you're hooked."
Janet sat on a wooden cable spool in one of their pens and Bambi, a Nigerian dwarf goat with light brown hair and blue eyes, jumped onto her lap. As Janet rubbed Bambi behind the ears and nuzzled her neck, Laney, a little doe, tried to head-butt Bambi out of the way so she could get a little nuzzling.
"Miss Laney is mad," Janet says, so she rubbed Laney's back. Blueberry, another Nigerian, chewed on Janet's jacket until Janet turned and rubbed her neck. Then, from across the pen came a loud "Maa-aaa-aa." Bailey, a pregnant goat nearly ready to deliver, was calling.
"If you have your hands on them from the time they're born, they're more loving," Janet says. "They seem to adapt to you more, recognize you, and follow you around."
For the first eight weeks of each goat's life, Janet, Wayland, and their daughter, Hannah, 21, spend hours every day cuddling the newborns. They sit on cable spools in the pens or on a white metal swing suspended from the roof of the barn with one, two, and sometimes three baby goats in their arms.
All that loving pays off. Goats from the Efirds' Peach Tree Farm have such sweet personalities, there's a waiting list for them. "They're happy goats," says Brenda Todd, who bought two.
The Efirds raise registered pygmies and Nigerian dwarfs, both miniature goats native to Africa, less than 2 feet tall and weighing 40 to 70 pounds.
They sell for up to $250, but that's not the point. This is, after all, the Efirds' hobby. They both have jobs — Wayland inspects natural gas lines, Janet is a home health care clinic receptionist.
"As far as making money," Wayland says, "you don't make much."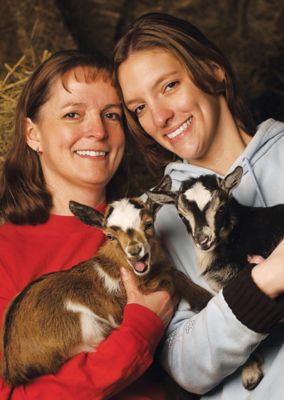 A LOT OF WORK … AND LOVE
The goat industry is growing as fast as the Efirds' herd. The American Goat Society, a purebred dairy goat registry, registers about 3,500 new goats every year. Most people buy miniature goats for pets, says Amy Kowalik, the registry's office manager. Others buy them for their milk (up to two quarts a day). A small number buy them for the meat.
"They don't require as much space or feed as their large dairy cousins," Kowalik says. "They're easier to manage, and they have a wonderful temperament."
When the Efirds' herd outgrew their shed, they built the barn, a short, well-worn walk from their brick ranch house. Bales of hay they grow for the goats are stacked inside against the walls. The far end is penned off, and opens onto a pasture. Eighteen does — the female goats — live there. Four bucks — male goats — live across the pasture in the shed.
Much of what Janet and Wayland have done, they learned from other goat farmers. They furnished the pens with cable spools for the goats to romp on. For feeding troughs, Wayland cut 6-inch PVC pipes in half and attached them to the fence with plastic ties. Next, he installed an automatic waterline.
But the way the Efirds nurture their goats is their own method. They discovered that the more time they spend with a newborn, the friendlier it grows to be. "We stay out here off and on all the time," Janet says.
So it's no surprise that Janet recognizes every goat by name and personality. Laney is a "love bug," black and brown with white moon spots. Mary Jane is more independent than her sister, Bambi, who prefers to stick close to Janet. Blueberry is mischievous, "the Dennis the Menace of girl goats."
"Never in a million years would I have thought we would have all fallen in love with them the way we did," Janet says. "If you didn't love it, you wouldn't be doing it."
Elizabeth Leland is a staff writer for The Charlotte (NC) Observer.