Thomas Jefferson's passion for gardening lives on in gardens filled with the same varieties of ornamental plants, fruits, and vegetables tended by the third president at his magnificent Monticello home.
The practice, known as heirloom gardening, provides a living link with the past, says Peggy Cornett, director of the Thomas Jefferson Center for Historic Plants at Monticello.
"We are growing the same heirloom varieties that Jefferson grew, including some seedlings from his original trees," Cornett says. "Jefferson grew over 300 varieties of vegetables in his lifetime and 150 fruits. He was very much the gentleman farmer."
Preserving and displaying this botanic legacy is Cornett's job at the historic site in Virginia. But, she points out, it doesn't require a 5,000-acre outdoor laboratory or any particular expertise to experience the thrill of heirloom gardening.
Heirloom gardens, dedicated to old-fashioned plant varieties, are gaining in popularity from coast to coast. Seeds from these plants — known to some as "living antiques" — may be affiliated with a place or person in history or handed down from one generation to the next.
When Cornett is not at work preserving Jefferson's living legacies, she enjoys growing heirloom plants in her own home garden.
"Heirlooms are important," Cornett says. "They help give you a sense of continuity with your ancestors. In my family, we had pole beans that have been passed down. Growing them connects me to my grandparents and great-grandparents."
If your ancestors forgot to include you in their gardening chain of succession, don't worry. Numerous shops and mail-order nurseries include heirloom varieties in their offerings. Even Monticello sells some of its seeds through its website.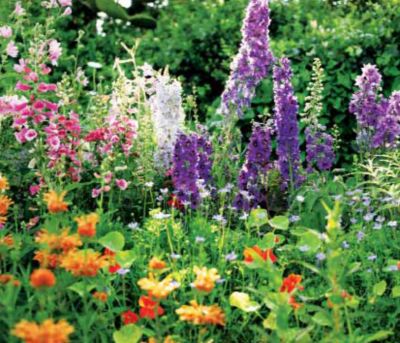 To be considered heirlooms, a variety must be at least 50 years old and genetically true to the original, with no hybridization.
Some heirloom plants have unusual common names that spark the imagination: blue Prussian pea (pisum sativum), snail flower (vigna caracalla), love lies bleeding (amaranthus caudatus), and shooting star (dodecatheon meadia), to name just a few.
Others are more familiar, such as the tulip, daffodil, and hyacinth varieties found in Jefferson's garden.
Aside from enjoying a brush with history, those who grow plants from heirloom seeds are helping to promote botanic diversity. In this era of mass production, concerns about harvesting rates and cosmetic appearance have narrowed the genetic field for many species.
Most heirloom variety fruits, vegetables, and herbs have better flavor, too, Cornett says.
"A lot of them do taste incredible and much different," she says. "A Red Delicious apple is not worth tasting compared to a really good Pippin, one of the 18th-century varieties."
Renee Elder is a freelance writer in Raleigh, NC.