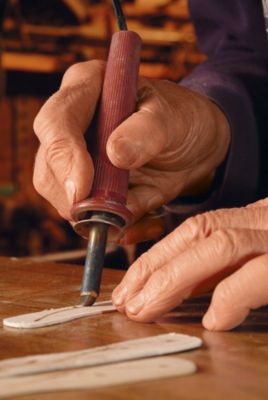 These battered hands hold thousands of tales of Americana loveliness.
Arval Woody raises his 10 fingers, the nails manicured by decades spent pressed against whirling sanders and polished by spinning buffer pads. He chuckles about small miracles hand surgeons have performed, and with outstretched palms, displays the scars of a master woodworker.
He is the fifth — and possibly last — generation of the Woody family to fashion handmade chairs without benefit of glue or nails. The ladder-backed creations have won Woody, now 84, accolades from governors, museum curators, and even a president.
But each of the thousands of chairs made under his hands has the same quiet beginnings in a town called Spruce Pine, set in the mountains of Western North Carolina.
Visitors cross the shop threshold under unassuming red-block letters that announce, "Woody's Chair Shop," delighted at a showroom filled with small wooden chests, handmade spatulas, and flag boxes for fallen veterans.
Two things here are certain. Visitors, eyes closed and head back, melt into rockers, which curve gently with the spine. And with each new guest, Woody tilts a chair on one leg, climbs on awkwardly with his entire weight, and gives the ill-balanced contraption a hard bounce.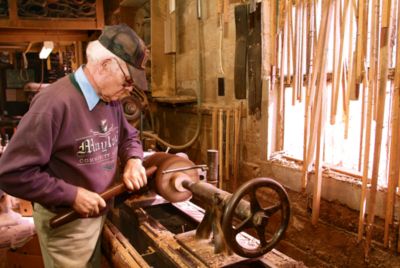 "You won't find a factory-made chair today that can stand that," Woody says. His wife, Nora, shakes her head and whispers, "He has not yet broken a chair or himself that way."
On the walls and shelves are hints at Woody's success. A July 1963 letter signed by President John F. Kennedy: thank you for the children's rockers for Caroline and John Jr., the president wrote. A 1995 commendation from North Carolina naming Woody a state living legend. A Smithsonian Museum book, picturing a Woody chair against a gray background.
They are prestigious honors, things that will forever insure Woody's place as one the great artisans of Appalachia. But the story of the man is better found behind the back wall, in a dusty wood shop that bears little resemblance to the glistening affairs of television wood workers.
NO PLANS TO QUIT
The shop buzzes five days a week of wood being lathed, leveled, and sanded. Natural light streams through the windows, illuminating sawdust and shavings the color of a pale, glowing sunrise.
Woody's grandfather, Arthur Woody, once sold chairs three for $1. The elder man turned his own lathe with a waterwheel. Woody spent his childhood watching his grandfather work, but never turned a chair himself until he returned from World War II when he and three of his four brothers joined the family business.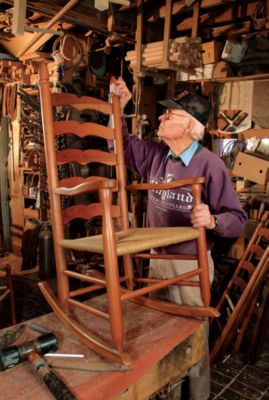 The brothers' chairs fetched $6 to $12, but two of the men were lured away by mass-produced furniture makers in the area. Arval and Walter rigged two sanders to replace the lost brothers, christening one Frank, the other Paul. The men have passed on, but their namesakes still smooth chairs.
Most of the machines are inelegant creations pieced together with a hodgepodge of parts, a washing machine engine, a lawnmower tire. Dust vacuums operate with homemade wooden handles. A mortise machine with an 1873 patent date cuts joints. Woody rescued it from a slow death by rust.
Back here, chair backs and rounds are coaxed from a half-dozen different woods, the parts driven into the chair posts. The posts dry and shrink at the joints, creating a fit strong as solid oak. Nails and glue have never been part of the Woody family budget.
Except for the dozen or so chairs in the showroom, the wait for a Woody chair is about three months. Cost ranges from $130 for a low slipper chair to $500 for a cherry rocker wide enough to cradle a football lineman.
Family legend holds that the family surname was once Anderson, though somewhere along the line, the carpenters took the more fitting name — Woody. But now, the 150-year Woody family tradition has an uncertain future. Arval and Nora have no children, and their nieces and nephews have their own pursuits.
So when Walter passed away about two years ago, he left his brother as the only Woody man who still works with wood.
For now, Arval Woody has no plans to quit the chair business. Granddad Arthur lived until he was three months shy of 97, working until the last. And Nora won't let him sit at home anyway, Woody jokes.
"She tells me if I quit, I'll become a rocking chair myself."
Tonya Maxwell is a staff writer for the Asheville (NC) Citizen-Times.