A gadget designed by Max Swisher in the 1940s allowed heavy lawn mowers to pull themselves, a striking invention in the early days of gas-powered, rotary mowers.
Swisher's son, Wayne, is now president of Swisher Inc., a leader in an industry where innovation still rules. And whether it's a big lawn or a small farm, a range of modern equipment takes the chore out of day-to-day chores.
"There's a huge trend of people getting out of the cities and buying 2 or 3 acres or even 20 or 30," Wayne Swisher says. "They may still drive into town for work, and often they find they spend their whole weekends mowing."
Few tools have proven as useful, or as popular, as the zero-turn riding mower. These mowers are sports cars compared to traditional lawn tractors, which might require repeatedly backing up and going forward to negotiate a turn.
"You turn right on a dime and the mower stays within its own footprint," Swisher says. "You can just whiz around trees."
Quick turns and general mobility mean these mowers can half the time of many mowing jobs, Swisher says.
Entry-level models with a 36-inch cutting radius cost about $2,000. The top of the consumer line, with a 60-inch cutting radius, cost about $4,000.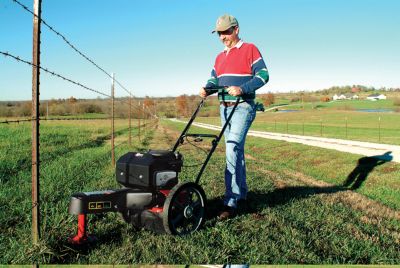 While zero-turn riding mowers are popular, many landowners are leveraging their investment in an all-terrain vehicle, or ATV. First appearing in the 1980s, these four-wheeled vehicles are workhorses and continue to boom, Swisher says.
ATV accessories make the tough vehicles even more useful. "It's a good way to get good use out of an expensive piece of equipment" Swisher says.
Swisher, whose company is based in Warrensburg, Mo., makes the Trailmower, a mowing attachment for ATVs, UTVs (utility terrain vehicles), tractors, or riding mowers. The Trailmower can cut a 60-inch swath, making it a powerful add-on for an ATV or a dramatic expansion of the cutting range of a lawn tractor.
A model with a 44-inch cutting radius costs about $849 and a model with a 60-inch cut costs about $1,499, Swisher says.
There's also a solution for landowners with plenty of acreage and a desire to keep it manicured. "Wearing a hand-held string trimmer from a shoulder harness gets old," Swisher says.
Instead, these landowners should consider walk-behind string trimmers, which resemble lawnmowers that cut with heavy-duty line instead of metal blades. They're ideal for trimming along fencerows inaccessible to other mowers.
Noble Sprayberry is a freelance journalist based in Dallas.