Growing up in Kansas, he was the little boy who wanted to play ball — all the time.
"You can ask my folks, that's all I wanted to do. They said I'd be tugging on somebody's pants leg wanting to get somebody to play catch with me," says Kevin Hooper, or "Hoop" as he's known to friends.
Hooper's enthusiasm for the game of baseball has grown since he was a pint-sized kindergartner looking for someone, anyone, who would throw the white ball his way.
It's what he's done all his life, seeking a chance to prove his ability in the game he loves. It hasn't been easy. At every step of the way, coaches doubted he had the muscle, speed, or smarts to play with the big boys.
"Then I'd prove them wrong," says Hooper, 5-foot-9 and 165 pounds.
Today, Hooper is itching to advance the final rung up the ladder of his dreams. He's hoping to breach that gap separating the minors, where he's played since being drafted in 1999 as an All-American out of Wichita State, and the major leagues, the "big show" many boys dream of, but few ever get to experience.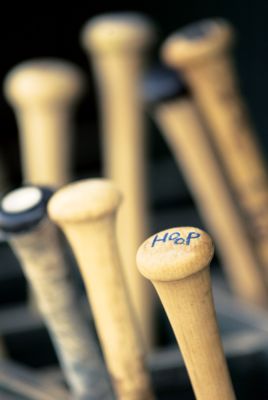 He's 28. The meter is running on his lifelong quest.
The ride officially began when he was 7, donning a baseball uniform for the first time in his hometown of Lawrence, Kan.
"Oh yeah, putting that uniform on, and a new set of cleats and a new glove. It was an exciting time, definitely," he remembers.
"Every summer from then on, I was playing ball, wearing the uniform."
By the time he got to junior high, he was drawing attention. Lynn Harrod, Hooper's coach at Lawrence High School, remembered scouting him in junior high and was impressed.
"He had a lot of effort, but at his size we weren't too sure he was going to make it to the next level. I think that's how everybody's always felt about Kevin, until they put him in a situation," Harrod, now a school administrator, says.
Indeed, Hooper eventually became an All-State selection.
"It didn't take us long to figure out he was a very good player. I remember in our first doubleheader of the season his first year he had eight RBIs (runs batted in). I may be slow, but I'm not stupid," Harrod says.
Lee Ice is another former coach who initially underestimated Hooper's ability. Ice was his coach on an American Legion team in Lawrence.
"He's an over-achiever. He's a kid that you would have to tell to stop taking ground balls at the end of the day," he says. "There are some kids that have all the talent in the world that never become ball players like Kevin Hooper."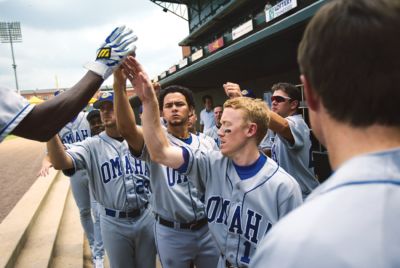 PAYING HIS DUES
When Hooper first joined the American Legion team, about five players already had scholarship offers from Division I colleges and universities.
"Kevin proved he was just as good. Pretty soon he had his own scholarship. The coaches from Wichita State University came over and they signed him," Ice remembers.
"All he ever wanted was an opportunity. He just proved people wrong at every level."
Following his 1999 senior season at Wichita State, Hooper was drafted by the Florida Marlins in the eighth round. Since then, he's bounced around, paying his minor league dues with teams such as the Albuquerque Isotopes, Columbus Clippers, and the Omaha Royals. He's graduated from A to AAA ball, while earning a lot of frequent flyer miles.
"You learn to sleep on that airplane because you've got to get your rest somehow. It's a tough life," he says. "It'll wear your body down."
After playing with the Marlins organization for four years, Hooper is a free agent heading into the 2005 season.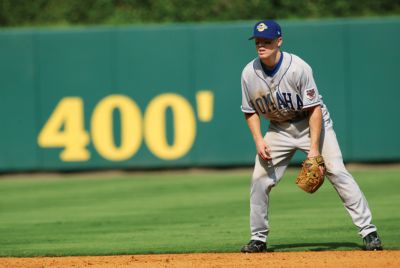 "Hopefully, I'll be signing with a team that's going to give me a good chance to make a big league team. I thought I had a pretty good chance of making the team last year but it just didn't happen. A big thing in baseball is being in the right place at the right time," he says.
"If it happens, it happens."
If not, he says stoically, maybe he'll become a coach, buy some land, and have a small farm in his spare time. He and his wife, Lindsey, who is expecting the couple's first child in June, like that idea.
"I've always loved farming and farms," he says.
He pauses.
"But I'm not ready to give up on making it yet."
The boy who wanted to play ball all the time is now the man hoping someone will put him in the game.
Stephen Leon Alligood lives and writes in Middle Tennessee.