Patricia Ritter's first knitting class was her own reward for finishing a paper she disliked writing as a nursing student at the University of Maryland in 1983. She had wanted to try knitting, so she used that as an incentive to complete the paper.
"I fell in love with it," Ritter recalls. "It's such a tactile craft."
Women are embracing it as much as Ritter, 45, who became an expert knitter and now teaches knitting classes in Clarksville, Tenn. Often, they start knitting for the same reason Ritter did — stress relief and relaxation.
"The No. 1 reason people cite is stress relief," says Mary Colucci, executive director of the Craft Yarn Council of America, the yarn industry trade association. A 1994 survey found that 34 million women either knitted or crocheted; that number climbed to 38 million by 2002. The most dramatic finding; however, was that the number of women under 45 who practiced one of the two needlework crafts climbed from 8 million to 17.3 million in the same time period, Colucci says. The council does not separate the two, because most people who knit also crochet, and vice versa, Colucci says.
Part of the growth is due to new and beautiful yarns and fashions that feature big, bulky sweaters or scarves.
"One of the trends is luxury yarns — mohair, cashmere, really fine wools. And novelty yarns are big," Ritter says, displaying an elegant scarf knitted from a mohair yarn in brown, green, yellow, and teal, with strands of a gold novelty yarn running through it.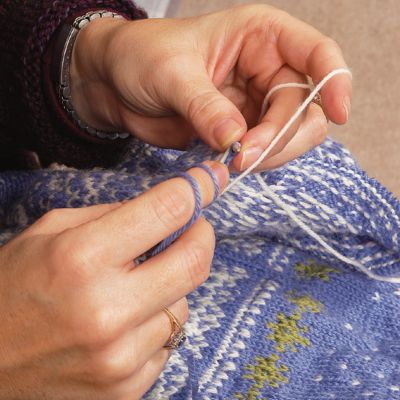 She spreads out an ethereal, white Angora sweater trimmed with a hand-knit metallic lace. "That's a very skilled project," she says of the lace, although she adds that anything made from a luxury yarn such as Angora will get lots of attention.
"Another big trend is hand-dyed yarn. Hand-dyed luxury yarns together are incredible," Ritter says. "Great yarns are more available and widespread now. The yarn industry made it cool to knit." Technology has made knitting easier, too, she adds with different needles and yarns that make projects go faster.
And knitters who want something striped or checked these days can buy design yarn that will knit into stripes or a pattern without having to stop and start with another color, she adds.
Both Ritter and Colucci see knitting's growing popularity as a desire to return to simple values.
"People started looking for things that brought comfort," Colucci says.
The Internet is another boost, providing a place where beginners or skilled knitters can find patterns, simple instructions, and chat rooms devoted to the craft, Ritter says.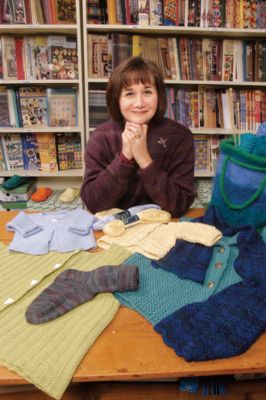 The feel of good yarn is one big appeal, Ritter says. "It's got to feel good if you are going to work with it 40 to 100 hours to complete a project."
Julie Treangen, a novice knitter who took one of Ritter's classes at Country Quilting and Stitchery, a needlecraft shop where Ritter runs the knitting department, agrees.
"You can bond with the yarn," Treangen says. "It's fun and so relaxing. I enjoy the fact that you can sit and knit and still visit with people."
So far, Treangen, who has been knitting for about a year, has made a simple sweater, several pairs of socks, a scarf for her 11-year-old grandson, and other projects.
"The sweaters are for me," she says, adding that one of her goals is to knit a Norwegian sweater — a sweater with reindeer, snowflakes, and several colors.
"When I was 13, I lived in Montana and saw a Norwegian sweater. I thought, 'I'm going to knit one of those someday.'"
Treangen also plans to knit a cashmere sweater at some point, but because it will cost about $500, she wants to be sure of her knitting skills first.
Indeed, knitting doesn't really save money.
"Depending on the size and yarn, it would probably cost you about $50 to knit a high-quality wool sweater, and I saw a sweater in a catalog the other day for $48," Ritter says.
But that doesn't matter, Treangen says.
"It wouldn't mean as much to me," she says. "It's exciting to choose the color and pattern. I'm someone who likes something different."
Vicki Brown is a freelance writer in Nashville, Tenn.