Fly-fishing is an incredibly fun and challenging way to catch any fish — and more so if you snag a fish on a fly that you made yourself.
Indeed, anyone who fly-fishes and ties their own flies will quickly tell you that fly-tying is often as much fun as fly-fishing. We call it the "other half" of the sport, because so many fly-fishers tie some or all of the flies they use.
Fly-tying is as simple as using thread to tie natural materials such as feathers and hair, along with all sorts of synthetics onto a hook to "sculpt" an imitation of food that fish eat — insects, minnows, crayfish, shrimp, worms, fish eggs, mice, and frogs. Successful flies even can come straight from your imagination.
If you can tie your shoes, you can tie a fly, we often tell our fly-fishing school students. It's very easy and relaxing, and a great way to stay connected with fishing when it's cold outside and your favorite waters are frozen. In fact, some folks who never pick up a fishing pole tie flies simply for the creative fun of it.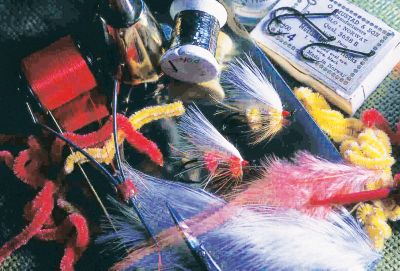 Get started by purchasing inexpensive fly-tying tools and materials, which can be found in kit form or bought separately, and then getting a little instruction. If you live near a fly shop or know of a local fly-fishing club, you can often get help learning your basic skills for little or no charge and they can also help you choose your equipment and materials.
Many sporting goods and fly-fishing catalogs offer tying equipment and materials as well. Videos and books are available to take you step-by-step through the tying process.
In getting started, it usually takes only a couple hours of instruction to tie your initial fly. Soon though, after a little practice, a simple fly can be tied in just 10 or 15 minutes and you continue to get faster as you practice.
Eventually you can have, like the rest of us who are "hooked" on tying, a nice supply of flies for yourself and maybe as gifts for your fly-fishing friends.
Dave and Emily Whitlock teach fly-fishing in the Arkansas Ozarks. Their articles appear in many fly-fishing publications, and Dave has written and/or illustrated several books and appears in eight instruction videos.
Artificial fishing flies' names are a colorful as their hair and feathers: nymphs, midges, wet flies, dry flies, emergers, terrestrials, spinners, and poppers.