Glance around Bruce Buren's farm and you might wonder what, exactly, it is he's farming. You won't see cattle. No row crops such as corn or soybeans. No large machinery.
Look past the ponds and the farmhouse where uncultivated fields meet woods. Some might see Buren's placid property as unproductive, since crops grown by five generations before him are long gone and woods take up a good share of the acreage.
But look closer and you'll see 80 acres that are supporting Buren and his young family quite nicely. His crops grow among towering trees, underground, and around rocky outcroppings.
His crops are medicinals — curative plants that heal, invigorate, revive, soothe, protect, and prevent. Plants such as:
Ginseng, a root believed to protect against stress and lower blood sugar and cholesterol levels.
Self-heal, which, as the name implies, promotes healing inside and out — sore throats, fever, ulcers, wounds. "It's an all-around medicinal," Buren says.
Skullcap, considered a sedative and nerve tonic and once was used as a folk remedy for rabies.
Goldenseal, a root that treats eye, skin, and digestive disorders, commonly available in health food stores as a tea, powder, or in capsule form.
Buren was eager to continue his family's farming tradition, but he also realized that only specialized methods would allow him to truly make a living at it.
"People are looking to support that way of life and niches are available," he says.
Bruce Buren has indeed found his niche.
There was a time when Buren couldn't keep a potted plant alive. His colleagues at his law firm resorted to plastic plants to give his office a little greenery.
Still, he always had a connection to the land in Glenmont, a small town in north central Ohio where his family first settled in the 1820s. Buren's parents moved frequently for his father's job, but he spent many summers at the farm with his grandparents. "I liked being here," he recalls of the farm which had grown to nearly 400 acres.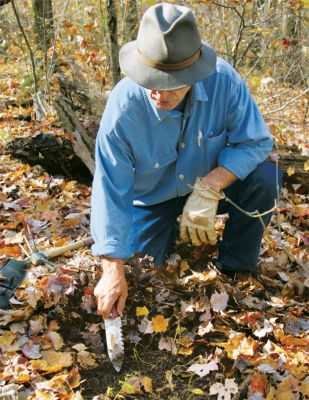 Buren's father inherited the farm and sold off all but the farm's original 80 acres. When he died, Buren bought the property from the other heirs. "I just didn't want to lose it, like we lost the other (acreage)," he says.
His 150-mile weekend drives to the farm soon stretched to into several-day stays. "First, I would come on Fridays and weekends, then I'd stay from Friday to Monday," he says. Buren had a reason for those increasingly long stays: "It felt really good to be here," he says.
Buren's priorities were changing, too. His international law practice was keeping him away from not only the farm, but also from Maria, who would become his wife, and the family he knew they would one day have.
"Once I married and started having children, I didn't want to be traveling," he says. "That was my motivation to find something to do."
So Buren abandoned the life of a lawyer — big cars, expensive suits, and active nightlife — and began to explore how his family could live off the land.
Livestock or row crops were not an option. "I didn't want to do conventional farming," he says, citing the struggles of nearby large-scale farmers, costs involved, and methods.
Instead, he searched for a different kind of farming. "It's like the difference of being on a powerboat or sailing; I prefer sailing. Or if I'm taking flying lessons, I'll take a glider plane," he says. "I don't like the noise or intensity of machines."
He found his niche quite by accident. "I was researching something not even connected (to medicinals) and I ran into some information about the medicinal herb industry and started looking into it," he says.
Prices were reasonable, the industry was growing about 20 percent per year, he already had plenty of "inventory," and he was well-versed in herbs.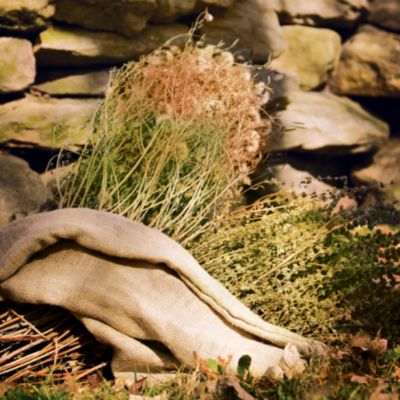 "My great-grandmother knew them and my grandfather knew them and my father gained information about medicinals from them," Buren says. The knowledge had filtered down.
So Buren left his law practice and plunged headlong into the life of a farmer. And he hasn't looked back.
FAVORING THE NATIVES
Buren established himself fairly quickly. "There was stuff already growing out there, though it was not in abundance because the woods had been disturbed," he says, noting the timber his father had cut and sold a few years ago.
He quickly began to restore ideal growing conditions for the woods' native herbs. That meant learning the habitat and clearing out non-native plants to allow the natives to grow. "You have to return to the native habitat for plants to prosper," he says.
Buren favors cultivating indigenous plants. "There are less problems with them. Alien plants tend to be invasive," he says. "That's the biggest problem, or you have trouble growing them."
Even under the best of circumstances, cultivating herbs takes time, he cautions. "It's a slow process that requires patience." Ginseng takes seven years to mature, goldenseal five years, and echinacea takes three years to mature.
After he had enough of a crop to sell, Buren used the Internet to find buyers across the country — primarily practitioners such as doctors, herbalists, and pharmacists.
"I do have manufacturers I sell to, but I have stayed away from large quantities of over 500 pounds because I'm one person," he says.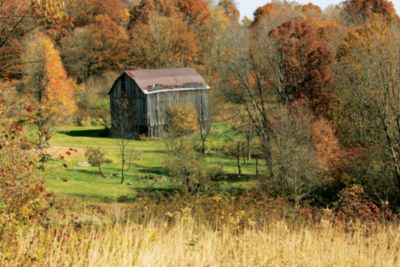 He fills larger orders on occasion by organizing work crews and harvesting herbs from local farmers' land. "I've been working with the farmers around here, helping them add to their farm income because I want to see people make it," he says. "I don't want to see people lose their farms."
Indeed, Buren is educating his neighboring farmers on making money from their woods as well as from their fields.
"Every farm around here has woods," he says. "They may have too much wetland or rock outcroppings and we'll look at the land and say, 'This is what you can grow here,' or 'This is what is growing here.'"
They may not have enough for an immediate harvest, but they can in five years, Buren says.
"They're not looking at it full time, but they're looking at it to add to their farm income. That's a good approach," Buren says. "I tell them, 'Don't stop what you're doing; just add to it.'"
Unlike those traditional farmers, Buren does not harvest his entire crop each fall. Rather, he harvests each order as it comes in. And he'll never harvest an entire crop of a particular herb.
"I'm in this for the long term, so I'm not ripping out what I have," he says. Such care will ensure a lengthy livelihood. "If you keep the ecosystem balanced, you can take from it for a long time," he says. "You can produce lush crops if you put back more than you take."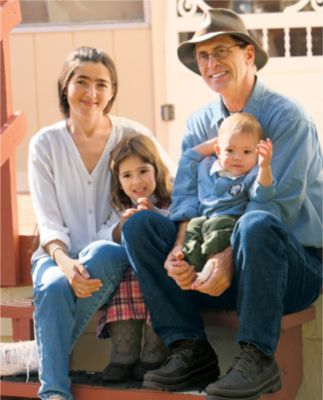 STAYING CONNECTED
People seeking wellness and healing information, combined with the Internet, have created an "explosion" in the medicinals market, Buren theorizes. "They're looking for answers that conventional medicine hasn't given them," he says. "They want to know, 'What else is available to me — something safer and effective?'"
Medicinals may not be mainstream in the United States, but they're hardly unconventional elsewhere.
"Much of the world uses medicinals; we are one of the few that don't," Buren says. "In Europe, it's a mandatory part of the process. They use it as the first line of defense. Only if (medicinals) don't work do they go to synthetic drugs."
The Internet, which provides efficient and low-cost marketing, also ensures Buren doesn't become isolated in his work. "I can make contact and do the research that I otherwise couldn't do," he says. "I'm surrounded by nothingness, but at the same time, I feel connected."
Prices, research, and trends — Buren can keep current on just about anything via the Internet. "You have to keep your fingers on the pulse of the industry and on research," he says. "They're establishing criteria and standards and doing surveys and studies to find out what's working and what's not working."
What's working is Buren's new low-stress lifestyle. It's hard work, to be sure, but enjoyable. But he's right there to see Samuel, 1, shakily take his first steps, drive Hannah, 4, to her dance class, or share the day with Maria.
And there's not a plastic plant to be found.
Carol Davis, editor of Out Here, is working to become a master gardener.