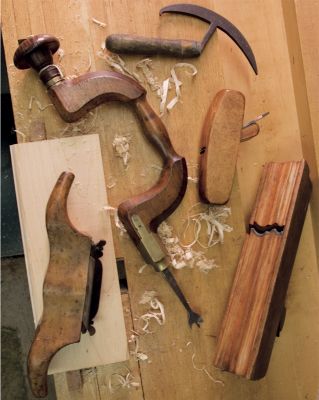 John Whelan's home is full of antique woodworking tools. Some, adorning the walls like works of art, date back to when his home state of New Jersey was still a British colony. Others, a century and a half old, he still presses into service in his workshop.
For Whelan, and collectors like him, modern tools may be speedy, but they don't create the quality workmanship that tools from a century ago, or two, or three, passed on to their work.
"A power sander or a power planer will do things a lot faster than a hand sander or a hand planer," Whelan says. "If you're satisfied with the effects you get, then you use it. If not, then you get an old hand tool and go back to when men took pride in their craftsmanship."
Whelan, 83, is a member of the Collectors of Rare and Familiar Tools Society, or CRAFTS, a group dedicated to preserving the heritage of these historic tools. What started as a group of a dozen locals who gathered informally to talk about tools has grown to include 500 people from across the country and around the globe, as far away as Australia.
What they share is a love for antique tools you won't find on a hardware store shelf.
"Everybody has a different story," Whelan says. "I dabbled with different avocations for a long time. I started with woodworking and soon learned that some of the old tools were a lot better."
These old tools were responsible for making the stuff of everyday life. Today, household items rattle off assembly lines and pop out of plastic forms, but in times past, they were crafts that required an artisan's time, dedication, skill, and creativity. They also required special tools of the trade.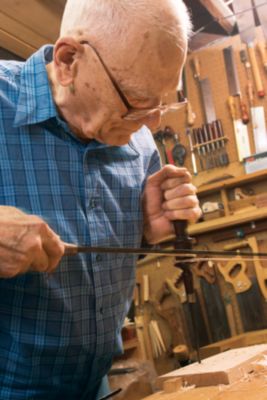 These days, many of them are hard to fathom, and even their names are almost lost to history. Twybils, for making baskets. Howells, for barrel making. Witchets, which made hoe handles round and easy to grasp.
Such tools didn't just make handsome crafts. In many cases, they were themselves works of art. Tools made for everyday work were often crafted of rare woods such as ebony or Cuban mahogany. Metals were hand-forged. A simple brace may look more like a sculpture than a basic tool to hold a board in place.
CRAFTS member Herbert Kean owns a brace made to win an 1876 Philadelphia Centennial international competition, with a carved ivory head, a German silver plate, and a frame carved from a 12-inch boxwood tree so rare it could only be found in Turkey.
"It represents a piece of Americana," he says. "It represents the height of tools made in this country, in my view."
A LESSON IN HISTORY
At CRAFTS' annual spring auction, collectors can find brace bits and trammel points, slicks and turning saws, and Archimedean-style screwdrivers. Some sell for as much as $1,000 to adorn a wall. Others, made to be everyday tools, are still put to use in workshops more than a century later.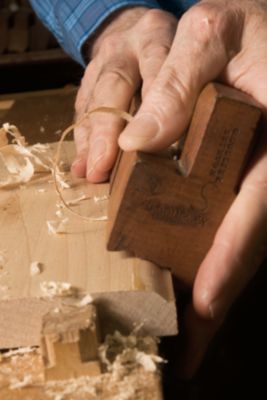 "In the days when there was absolutely no power of any kind, these people could make things that we would be proud of today," says Kean, 77.
A former manager in the aerospace industry, Kean helped make the switches for the high-tech command modules that launched missions to the moon, but his tool collection dates back to an ancient Egyptian axe.
"The history of man, and how man has progressed through society through the ages, is almost totally measured by the tools that they made and used," he says. "It appeals to me to be able to see how those things were done in the olden days."
Whelan has used his antique tools to make tables, chests, and a grandfather clock. He's even created copies of 16th century tools rescued from an old English shipwreck. For him, using historic tools not only offers the sense of craftsmanship of centuries past, it helps re-create a bit of that life, and how the people who once held those tools worked and lived.
"There was an enormous difference in life today and their life then," he says. "They worked for a living. I received a salary, but I never worked as hard as they did."
That's one reason Whelan and other collectors preserve these tools. A retired scientist, Whelan says he still keeps an eye on modern advances, but he also keeps glancing back to where we came from.
"I don't think you get a clear picture of where you're going," Whelan says, "unless you know where you've been."
David Frey writes in Carbondale, CO.