Ama Lou Daniel squints a bit as she winds thread onto a stainless steel tatting shuttle — a tool to craft exquisite, delicate lace. Truth be told, she probably could do it with her eyes closed.
Mrs. Daniel has been threading shuttles for most of her 103 years and she's made hundreds of finely detailed lace pieces treasured by those to whom she's given them.
Her century-old hands no longer have the smoothness or easy dexterity of a young woman, but those hands are still quite capable of looping and knotting a single thread on a small shuttle to create filigree lace as fine and finely detailed as an elaborate spiderweb.
Tatting — making handmade lace — may seem like an old-fashioned, lost art to some, but for Ama Lou Daniel, it's been a lifelong opportunity to add beauty to her world.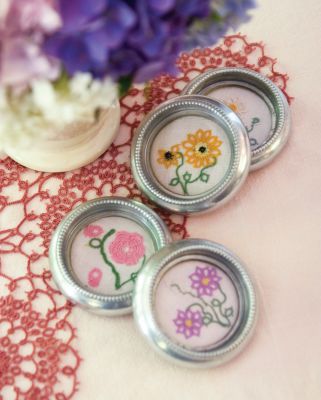 TREASURED KEEPSAKES
Nearly every morning, Mrs. Daniel spends a couple of hours doing what she has done since she was a young girl: Meticulously counting loops and tying knots as her nimble fingers move effortlessly with the shuttle and thread.
In and out, tie a knot, count the loop. Repeat. "You have to count everything," Mrs. Daniel explains.
Soon, a pattern emerges as she crafts the tatting into a bookmark, napkin holder, coaster, doily, baby cap or booties, or a frilly tablecloth much too pretty to use.
For nine decades, Mrs. Daniel has made hundreds of tatted pieces, and she's given all but a few she kept for herself — including one of her first doilies — to relatives, friends, neighbors, and fellow church members.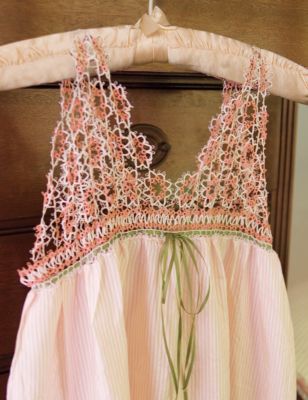 Tatting traditionally is done with white, off-white, or beige thread, but for special occasions, such as a new baby in the family, she reaches into a clear plastic bag filled with a rainbow of colors -pink, blue, green, red, yellow, purple — to tat a colorful gift.
"She made some pink napkin holders to match my dishes," says Trisha Chavanne, of Elkmont, Ala., a great-niece with whom Mrs. Daniel has lived with since last November. "We all treasure the things she has given us. And if she gave one of us (she and her two sisters) a gift, she gave all of us one."
TIME AND PATIENCE
Young Ama Lou was just about 10 when an older sister taught her how to tat.
That older, married sister, Vera Johnson Standifer, then 21, had visited friends in a nearby town and learned "the stitch," and, in turn, taught it to Ama Lou and Bada, the youngest of the family's seven children.
Little Ama Lou, who already was skilled at crocheting, took to her newfound skill "immediately" because she thought it was "so pretty and dainty and unusual."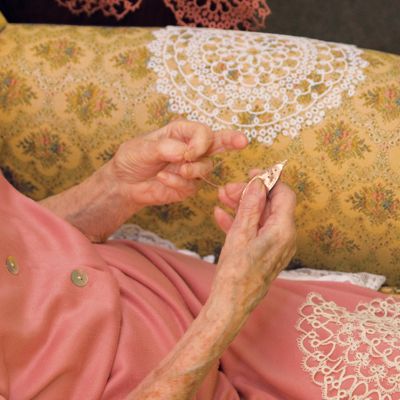 She doesn't recall the first complete piece she made — it was more than 90 years ago, after all — but her first tatting was used as lace. As she became more accomplished and learned new patterns from the needlework magazine to which her mother subscribed, young Ama Lou's tatting would embellish pillowcases, towels, blouses, and other pieces of clothing or linens.
Her father, a farmer, encouraged his daughters' new skill by carving each one a cedar shuttle, about the size of an index finger, to fit their little hands.
"It was so smooth the needle never hung up," Mrs. Daniel recalls.
Over the years, as a homemaker in Chattanooga, Tenn., Mrs. Daniel became skilled at other fiber arts — quilting, knitting, needlepoint, weaving, and just about anything else requiring a thread and needle.
But tatting came particularly easy for her then and now, Chavanne, her great-niece, says. It's also been good for her physically.
"She doesn't have any arthritis in her hands, which she thinks is because of tatting," she says.
Mrs. Daniel has tried to teach some of her great- and great-great nieces to tat, but none really have inherited her tatting talent.
It takes a lot of time and patience to learn and do, she acknowledges.
"Tatting is easy," Mrs. Daniel says with a soft chuckle, "if you know how to do it."
Yvonne Terry Betowt is a staff writer at the Huntsville (AL) Times.
THREADS OF COMPANIONSHIP
Tatting might not be as prevalent as it once was, but it's far from a lost art, one tatting historian says.
"Just look at all the Internet sites," says Heidi Nakayama, of Fresno, CA. "It has brought everyone together. There are probably about a million people who tat, but until the Internet, no one knew others were out there."
Nakayama learned tatting from an aunt nearly 20 years ago, after someone gave her an old shuttle.
Unable to find a book on tatting shuttles, she researched them herself. In 2002, she wrote the book, Tatting Shuttles of American Collectors.
Just as many women get together to quilt, Nakayama says, groups of tatting enthusiasts convene all around the country, weekend tatting conventions are held, and plenty of instruction and pattern books are available.
Popular Pages on TractorSupply.com
---