Butterflies — those delicate, dancing aerial acrobats of summer — may be attracted to a garden as readily as birds to seed if you plant the right foliage.
"First, remember that butterflies are sun creatures, so plant where there's as much sun as possible," says Julie Vidotto, who knows her butterflies upside down. Vidotto is education program manager at the North Carolina Arboretum in Asheville.
You needn't plant much. A container planted with parsley and cosmos is all you need. The cosmos must be orange, however, not pink, because butterflies are attracted primarily to the "hot" colors of yellow, orange, or red. "It's the only spectrum they see," Vidotto explains.
So why the parsley? It doesn't bloom at all. Well, parsley is what's called a host plant where butterflies lay their eggs. Some parsley will be consumed as the larvae grow, so the parsley/cosmos pot provides food for both the adult and the not-yet butterflies.
"They need nectar plants and host plants, and every butterfly is different," Vidotto says. "Swallowtails are attracted to parsley, fennel, and other herbs (as host plants). Milkweed attracts monarchs." She suggests getting a butterfly book to see what plants attract what butterflies in your area.
"I grow some parsley for me, and some for the butterflies. If I find a caterpillar on my personal parsley, I pick him up and put him where he belongs," she says.
Nectar-producing plants attract adults, which, in turn, pollinate the flower. "It's a symbiotic relationship," she says.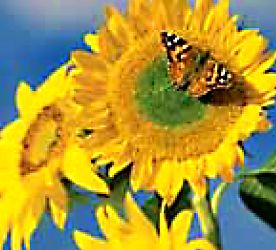 Photo by Minden Pictures
Certain flowers will attract butterflies to your yard. "The simpler the flower, the better," Vidotto advises. "And plant for large splashes of color, not just spots of it."
She recommends planting for a continuous bloom as well, with orange azaleas in spring, for example, followed by cosmos, then yellow mums in late summer to fall.
Good nectar sources are butterfly bush, azaleas, cosmos, marigolds, zinnias, tulip poplars, pineapple sage, Mexican bush sage (a type of salvia), and orange echinacea (coneflower). The orange Mexican sunflower (tithonia torch) attracts butterflies because it produces nectar, whereas yellow sunflowers have no nectar and attract mostly birds for the seed.
Along with plants, add some flat stones in the garden to absorb heat on sunny days. "Butterflies are solar-powered and need a warm spot to recharge their batteries on a cool day." She also recommends shallow water, such as a birdbath, for drinking.
Vidotto's last bit of advice is obvious, but is all too often forgotten: Butterflies are bugs. If you spray pesticides in your garden, even organic pesticides, then you'll kill butterflies.
And we don't want that.
Peter V. Fossel is a writer and organic farmer in Goodlettsville, Tenn.