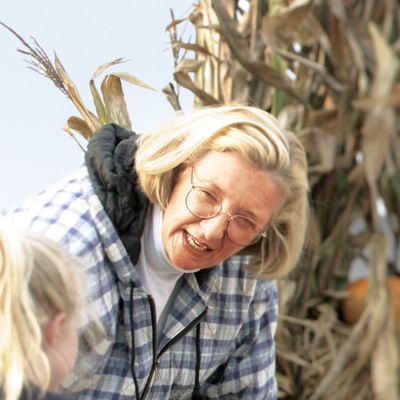 Each spring, when Amy Corbin opens her greenhouses — bursting with color and fragrance — her customers practically dance through thousands of flowers and herbs.
But, happy as her customers are to drink in spring after a long winter, none come close to the joy that Amy feels. She left this Tennessee farm for several years to pursue a successful retail career, but family ties kept tugging at her.
So Amy, now 45, returned home and discovered, quite by accident, that she belongs where she began. This is her home, her business, her family's farm. And she's back to stay.
MAKING HER WAY
Amy's agricultural roots run deep. Her father, Jimmy, grew up on the property that adjoins their homeplace, and has farmed all his life. His father also was a farmer and helped create a county soil conservation program.
Amy's mother, retired schoolteacher Jane Harris Corbin, grew up on a farm in a different part of the county. Jane's father didn't farm — he owned a tractor dealership — but he leased out their property to farmers. That land remains in the family and houses several specialized ponds containing shrimp, which the elder Corbins commercially have raised for three years.
All told, the Corbins own about 400 acres near Springfield, Tenn., in the north central part of the state. Jimmy and one of his sons raise cattle and tobacco and lease a good portion of their property for row crops.
Amy, the eldest of four children, was a country kid who grew up riding their pony, Judy, bottle-feeding piglets, and raising a lamb, named Charlie Brown. "Charlie Brown grew up in the back yard with us," she says.
Amy entered the University of Tennessee-Martin, as a marketing major. As a junior, she worked part-time at a major department store in Nashville and enjoyed retail so much she left school to work there full time.
Though the store changed ownership, Amy continued to rise through the ranks, ultimately becoming an operations manager. "I learned so much from that," she says of her experience in retail.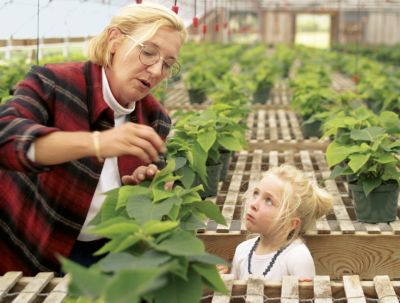 Her company transferred Amy to a store in Jackson, Miss., in October 1991, as operations manager, overseeing training, human resources duties, payroll, hiring, and a legion of responsibilities.
"I enjoyed every minute of it when I did it," she says. But being on call 24 hours a day, seven days a week meant little time back home with her family, which was hard on her, particularly because they are such a close bunch.
Amy grabbed time to be with her loved ones whenever — and however — she could. "I'd fly home for six hours," she recalls. "There was a flight out of Jackson at 6 a.m. and it left Nashville at 8:45 that night."
In summer 1996, Amy simply boxed up her belongings and returned to the place she'd longed for. "I had no job, no nothing. I just packed it all up," she says. "I was ready to move back."
Her brother and sister-in-law moved her home to Tennessee, back to the family farm and kin who happily welcomed her. "I was thrilled to death," her mother says.
Amy's reason for leaving Jackson is simple: "I missed my home and family," she says. "That was it."
TURNING POINT
Amy enjoyed having time off to relax, spend more than just a few hours at a time with her family, and do things she'd never had time for. "That fall, the day after Thanksgiving, the biggest day in retail, Mom and I went shopping," she says. "That was a different experience."
She had started an employment search, but a more immediate job needed to be done: pinching back 5,000 chrysanthemum plants. Her family had planted the mums using leftover soil and fertilizer from her father and brother's company, Tobacco Transplants Inc., which grows tobacco seedlings.
"They told me it was time to pinch mums and I said, 'What are you talking about?'" Amy says. She learned that pinching, or pruning, mums promotes fuller, bushier growth.
"That fall, we did some day lilies and a few other things, just to see what would happen," she says. "I thought, 'This is a lot of fun.'"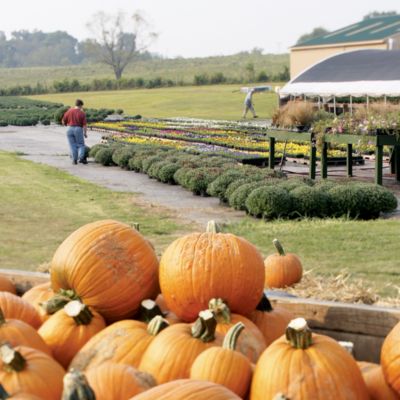 Amy worked for her father's tobacco transplant company the following spring and helped with the mums again that fall. But it was a seminar and trade show in Cincinnati that would prove to be a turning point for Amy.
"I saw all of these beautiful, beautiful things that people around here had never seen or never heard of, so I decided we would just grow them and we just did," she says. "There was no business plan, no training, no nothing, but that's literally the way it happened."
She contracted with a plant broker, who orders seedlings for her, and she began potting new plants in February 1998. "When the first shipment came, we didn't know if we could grow it, or what people's reactions would be. We didn't even know, businesswise, if it would even be a go," Amy says.
But customers were drawn to the greenhouses packed with color from the baskets hanging from the ceiling to tables filled with thousands of impatiens, begonias, alyssum, moss rose, geraniums, petunias, and flowers they had never seen before. Corbin Creek Greenhouses & Gifts was born.
Amy makes it her mission to introduce new plant varieties every spring.
She also adds flowers that they haven't sold before. "We grew roses this past spring for the first time," she says. "The roses were gorgeous."
Amy wasn't so sure about them, though, when they arrived. "They were just bare root, black, dormant canes. When I opened the box, I thought they were dead," she says. "We trimmed the roots and potted those canes and started misting … three or four times a day to bring them out of dormancy,'' she says.
Within four or five days, tiny signs of green began to emerge. "I thought poinsettias were beautiful to watch until I watched those roses come out of dormancy," Amy says.
Her first rose crop also helped Amy cope with a long winter that year. "I would go and look at those roses every day and I would know it was going to end."
Amy's two greenhouses definitely chase away the winter blahs, says Jane Bellar, of Springfield, a Corbin customer since Amy opened her doors. "You can go in that greenhouse and you want everything in (there)," she says. "It's just so gorgeous."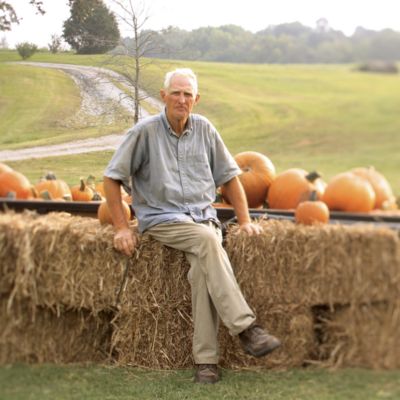 KNOWING WHAT TO DO
Most of what Amy has learned about growing came from her father, Jimmy. "He is the skill behind all of this. Everything we do, he has taught us," she says.
Her father's expertise saves time, money, and worry. "One problem with new (plants)," she says, "are the problems that spring up a year or two down the road that nobody knows about."
So when they noticed yellowing in petunia baskets two years ago, Amy, who was aware of particularly virulent plant virus, panicked. "I said, 'We're fixing to lose everything,'" she says.
"Dad said, 'No, you have a nutrition problem,'" Amy says. "You look at the new growth and the root system and, sure enough, it was an iron deficiency problem, not a dreaded virus."
But Amy also is good at what she does, her parents say. "She just took hold (of the business) and she ran with it," Jimmy says.
Amy has embraced her profession wholeheartedly and is determined to learn as much as she can, her mother says. "She knows exactly what to do. She has studied and taken courses, and she goes to all the shows and finds out the newest plants for each year."
Amy tells the story of a family friend who once remarked how she looks so happy all the time.
"I said, 'Sometimes I really feel like I should feel guilty because I'm so happy.' But I don't feel guilty for very long because we work hard at what we do. We work seven days a week, because we're dealing with living things, and the temperature and air flow have to be just right."
But the hard, physical labor has been good for her all around, Amy says. "There is nothing in this world — nothing — that could equal the joy and the happiness I have," she says. "I am very, very, very blessed and very thankful."
Carol Davis, whose thumb is only slightly green, is editor of Out Here.