The Nutro Company is committed to using only the highest-quality natural ingredients in our pet foods. We set the industry standard for food safety and quality. Our world-class food scientists and pet nutritionists use advanced research to ensure that every formula promotes a long, healthy life for your pet.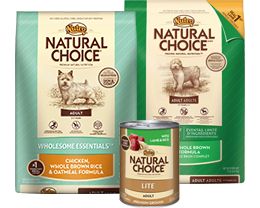 NATURAL CHOICE® Dog Food delivers premium, natural nutrition for your dog's unique life stage, breed size and health condition. Our natural dog foods contain natural ingredients and are fortified with essential vitamins, minerals and other nutrients. We offer visible health benefits — guaranteed or your money back.
Shop For Natural Choice® Dog Food
®/™ Trademarks © The Nutro Company 2013. Other trademarks are property of their respective owners.