Utility Trailer and Cargo Trailer Buying Guide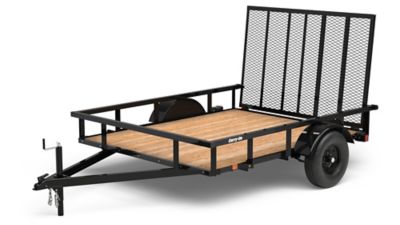 Tractor Supply stocks a large assortment of utility and cargo trailers, trailer parts such as hitches and ball mounts, and other trailer accessories. Learn more about which utility trailer is right for you in this guide.
How to Choose the Best Utility Trailer
Answer the following questions to best determine what type of trailer will fit your needs.
What Will the Trailer be Used For?
Light duty projects, such as the occasional hauling of one small piece of lawn equipment might require a 4' x 6' Utility Trailer, 4' x 7' Utility Trailer or a 5' x 8' SP Trailer. More frequent and/or small-to-medium projects, such as hauling one medium-sized piece of equipment like a zero-turn lawn mower or two small pieces of lawn equipment may require a 5' x 10' Wood Floor Trailer or a 7' x 12' ATV Trailer. Medium to large projects, such as hauling a small Bobcat and attachments or a small tractor may require a 6' x 16' 2-brake Landscape Trailer. Finally, we recommend an enclosed trailer if you need to keep your load out of the weather. Specialty trailers are available in a variety of sizes, and having one of these will ensure your payload is secure.
What is the Size and Weight of the Load You Need to Carry in the Trailer?
The primary concern when purchasing a trailer is the Gross Vehicle Weight Rating (GVWR) that you expect to carry. GVWR is the empty weight of the trailer plus the weight of the payload. Select a trailer with a higher Gross Vehicle Weight Rating (GVWR) than you expect to carry. The GVWR is a diversified weight rating. That is, it assumes that the weight will be distributed equally over the floor of the trailer. In general, the GVWR correlates directly with the size of the trailer. If you are planning to haul something like a Bobcat, where a lot of weight is concentrated in a small area, you may wish to consider a custom trailer. For hauling ATVs and small tractors, weight ratings are seldom an issue. Usually, your main concern is having enough surface area to hold the right number of vehicles. You will want to consider larger utility trailers for medium and large tractors and other small equipment. Larger trailers often have two axles and are called tandem trailers. Remember to plan not only for what you are hauling now, but also for how your needs may grow or change in the near future. It never hurts to plan for some extra capacity in case of unforeseen events.
What is the Maximum Weight Your Vehicle Can Tow?
If you want to find out what the maximum towing weight of your vehicle is, check the owner's manual for your vehicle, or you can contact your local dealer. Once you have determined the maximum load your vehicle can haul, deduct the trailer's weight from this figure. This is the amount of payload the truck can theoretically haul with that particular trailer. The actual number will also be limited by the rating of the trailer. When determining the capacity of the vehicle, you should think about stopping the vehicle as well as pulling. (If the trailer and payload weigh more than the vehicle, it will be harder to stop.) A full-size pickup usually has a full-size Class 3 trailer hitch that is rated for up to 10,000 lbs. If you do not have a hitch, you can always install one.
Other Supplies You May Need When Purchasing a Utility or Cargo Trailer
If your vehicle has the standard tow package, it will usually have a standard wiring system for lighting. If not, you can purchase a plug-in wiring harness.
You may also want to consider picking up some additional items with your trailer purchase, including:
Electronic brake controller
Spare tires
Spare tire carrier
Lighting accessories (such as plug-in wiring harness)
Proper hitch hardware (may need adapter)
Trailer ball
Taillight protector
Trailer utility rack
Ball mount
Pin, clip, and coupler lock
Receiver tube
Tractor Supply Company stocks a large assortment of trailer parts and accessories. Consult the weight rating on the equipment to determine which of these parts will work with your trailer.
Q and A: Frequently Asked Questions About Utility or Cargo Trailers
Q: How do I load and unload my trailer?
A: For open trailers, or trailers that are not enclosed, you have a variety of options for loading and unloading. Tilt beds do not require a ramp because the entire floor of the trailer can tilt to allow easy loading and unloading. Rear ramp gates and side ramp gates allow easy walk-on or drive-on loading and unloading. Removable side ramps also allow easy walk-on or drive-on loading and unloading and are easily stored.
Enclosed trailers can be loaded or unloaded using a rear ramp door with a transition plate for easy drive-in loading, a single barn door, double rear doors, or side doors. Ask a Team Member at your local Tractor Supply for help finding the exact trailer to fit your needs.
Q: How do I know what size coupler to get?
A: The coupler size and ball size must be the same:
1-7/8" coupler requires a 1-7/8" ball
2" coupler requires a 2" ball
2-5/16" coupler requires a 2-5/16" ball
Q: Can I use car tires on my trailer?
A: Passenger car tires are not recommended for trailers because there is less steel in the sidewall. While this makes passenger car tires flexible and provides a smoother ride for passenger vehicles, trailer tires need harder sidewalls to handle the heavy weight. For this reason, you will be required to reduce your trailer's GVWR (Gross Vehicle Weight Rating) by 10% for each passenger car tire you use on your trailer.(Four passenger car tires can down-rate a trailer by 40%!)
Q: Do I need a brake axle?
A: A brake axle may be mandatory on all trailers rated for 3,000 lbs. or more. All Carry-On trailers are legal for all 50 states. Many are rated for 2,990 lbs. All Carry-On tandem trailers feature brakes as standard equipment.
Q: What is best way to tow my trailer?
A: You should try to mount your trailer flat. Trailers generally ride at 16-18 inches. If the bumper of the vehicle is higher or lower, you will need a trailer ball and ball mount that moves up or down to meet the bumper, as well as a pin and clip and receiver tube.
Q: Why isn't that axle straight?
A: A cambered (or curved) axle is a premium feature that provides flexibility and strength. The axle straightens under a load and returns to the cambered position when the load is removed.
Q: How do I license my trailer?
A: You are responsible for properly licensing and registering your trailer and for complying with all applicable federal, state, and local regulations. When you purchase a trailer, you will receive a Manufacturer Certificate of Origin (MCO). Take the MCO to your local license bureau, along with the bill of sale, to receive a title. Laws may vary from state to state.
Q: What if I still can't find what I need?
A: Tractor Supply Company can special order a variety of open and enclosed trailers for customers with specific needs. Ask a Team Member at your local Tractor Supply Co. store about special ordering a trailer.