Tips on Creating a Bird Habitat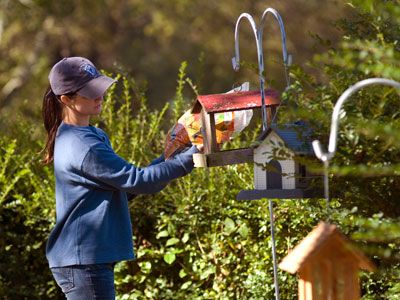 Feeding backyard birds and creating habitat with bird houses.
Attracting backyard birds takes more than just birdhouses. Wild birds look for places to feed and nest, and creating a habitat for wild birds will make them feel comfortable coming back year after year. One of the best ways to attract wild birds to your yard is to make sure your yard is inviting to wild birds. Below are a few tips on how to transform your yard into a bird watcher's paradise.
Ask yourself what type of bird habitat you already have.
Add diversity of in the form of flowering and fruiting plants birds like.
Simulate nature.
Think local.
Provide bird feeders and bird seed.
What Type of Bird Habitat Do You Already Have?
Before you dive into creating your backyard bird house, it's important to know what you already have. What kind of trees, shrubs, and flowers do you already have? There is a good chance that some of these plants are valuable to creating a bird friendly habitat. If you have such plants but they are not growing in the best areas in your yard, don't be afraid to transplant them. By moving them to a more favorable area, they can become much more valuable to attracting wild birds to your yard.
Wild Birds Love Diversity
It's important to make sure you have a variety of trees, shrubs, and flowers in your yard that are attractive to wild birds. Try to create multiple layers of foliage with the different heights of your plants. This will give wild birds plenty of shade, coverage, nectar, and fruit.
Simulate Natural Flower Groupings
Give your yard a "natural" feel by planting flowers in groups of three, five, or seven. Don't be afraid to get creative in the way you plant them, but try to avoid planting them in a straight line. Look at how flowers grow naturally in the wild for a little inspiration.
Think Local
Try to choose flowers that are natural to the area you live in. This will encourage birds that naturally live and migrate through your area to stop by your yard to feed and nest. You can get in touch with your local horticulture societies to learn which flowers you should plant.
Provide Bird Food
Feeding wild birds using bird feeders is the best way to get wild birds to visit your yard. It helps immensely if you plant flowers and trees that flower or bear fruit at different times of the year. This way you can provide variety year round.