Bird House Buying Guide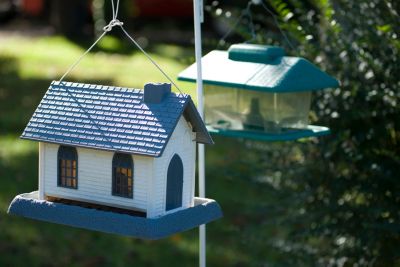 Choosing the right bird house for your backyard is important to attract the types of birds you want. Below are a few factors to consider when choosing or building a bird house to put in your yard in the early spring.
Here are some quick tips for how to select the right bird house:
Avoid bird houses with perches
Consider the size of entry hole
Choose the right floor dimensions
Choose a bird house that opens easily
Choose a well-ventilated bird house
Look for a bird house that comes with attachments
Wood is good
Choose a bird house that has an overhang
Avoid Perches on Bird Houses
Wild birds that use bird houses generally nest inside the trunks of trees in the wild. Theses nests usually don't have perches, so your bird house doesn't need one. In fact, perches can be a disadvantage in that they attract more aggressive species such as House Sparrows. These birds can take over nests from native tree-inhabiting birds.
Consider the Size of the Entry Hole into the Bird House
Most common hole-nesting birds can use an entrance hole that is 1½ inches in diameter. Some of the smaller bird species, such as Chickadees and Wrens, can even use holes with a diameter of 1¼ inch. These entrance sizes will also keep out invasive species of birds such as Starlings.
Choose a Bird House with an Opening Hatch
Make sure that your birdhouse has a door or hatch that opens. It doesn't matter if the house opens on the front, side, or top. This function serves as a way for you to monitor the progress of the nestlings and as a way to access the inside of the bird house for cleaning at the end of the year.
Don't be afraid to touch the bird nest. It is a myth that birds will abandon a nest if the scent of a human can be detected.
Ventilation for a Bird House
Your birdhouse must have some form of ventilation so air can move in and out of the birdhouse. There should be either small holes or slits near the top of the box to allow air to escape. It's also very useful to have drainage holes in the bottom.
Bird House Attachments and Accessories
It's important that your bird house has a way for you to attach it to a pole or stake in the ground. This means that there will need to be holes or brackets on the back or bottom of your bird house.
Bird Houses Made of Wood
Look for a birdhouse made of wood. Wood is the best material for bird houses because it provides insulation from the heat and cold.
Bird Houses with an Overhang
Look for a bird house that has a roof that overhangs the entrance hole. This serves two purposes; one, it provides shade over the entrance and two, it shield the entrance from rain.
Bird House Placement
Once you have decided on what type of bird house to buy, you must place the bird house in a location that is suitable for the birds' preferred habitat.
Habitat is one of the most important aspects of attracting wild birds. It's important that you place your bird house in the correct habitat to encourage birds to nest there. Some birds, such as Chickadees, Titmice, and Nuthatches nest in the forest. For that reason, if you are looking to attract any of those birds you should place your bird house near trees or big shrubs.
After you've chosen the correct bird house and put it in an optimal location, be ready for some tenants. You can expect to see birds such as Tree Swallows, Bluebirds, Chickadees, Titmice, House Wrens, and Nuthatches.