New Year's Resolutions for Pet Owners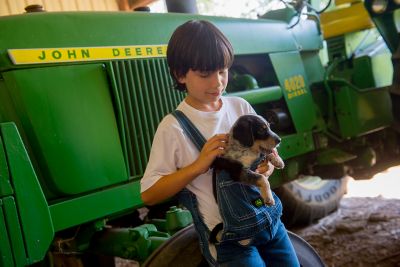 Keep your pets healthy, happy and safe throughout the year.
A 12-Month Checklist for Your Pets' Well-Being
Sticking to your New Year's resolutions isn't as tough when they can help keep your pets healthy, happy and safe throughout the year. Just follow this 12-month healthy pet checklist:
JANUARY – Update Vaccinations
Start your pet's year off on the right foot by doing a "Well Care Audit." Make sure you know when and which Well Care Services your pet needs by reviewing this vaccination recommendation schedule for dogs and cats. Update vaccinations, including those for Parvo, Bordetella, rabies, and more.
FEBRUARY – Celebrate Spay Day!
Have your dog or cat neutered or spayed! Animal overpopulation creates crowding in shelters and leads to the euthanasia of millions of pets each year. Celebrate World Spay Day, a campaign to end euthanasia of adoptable animals by spotlighting affordable, accessible spay and neuter programs, held the last Tuesday in February every year.
MARCH – Spring Cleaning
Spring is right around the corner -- clean up winter products, such as antifreeze and road salt, that can be harmful to your outdoor pets. Antifreeze contains a product that is sweet to the taste and thus quite palatable to pets; unfortunately, it is also quite toxic to an animal's kidneys. Deicers, such as road salt, can also cause painful chemical burns on delicate paw pads.
APRIL – Weight Watchers
According to research from the Association for Pet Obesity Prevention, more than 54 percent of American pets are overweight! Once the weather warms up, get outside and maintain your pet's proper weight with exercise. Consider this: Taking your dog for a brisk walk or jog two or three times a day can help you stick to your own New Year's resolutions, as well.
MAY – Flea and tick control
Flea and tick control is a must during warmer months when pets are spending more time outdoors. With the increasing spread of Lyme disease, the need for better tick control is crucial. From gels to dips to collars, Tractor Supply offers every option for keeping pets free of pests.
JUNE – Microchip Your Pet
There is nothing more distressing than having a pet disappear, but microchipping is one way of ensuring your pet is safely returned to you. Microchips are permanent identifiers injected under the skin between the shoulder blades and can help you get your pet back in the unfortunate circumstances where they escape or disappear. Many Tractor Supply stores offer low-cost Pet Vet Clinics where vet fees are waived and microchipping can cost as little as $15. Don't wait to chip your pet!
JULY – Prepare Pets for Travel
Summer months means many pets are traveling with their owners. Transporting your pet in your car can be a challenge, and you want them to be safely strapped in as you are. Consider a secured crate, seatbelt harness, or pet car seat for your four-legged family member every time you get into the car.
AUGUST - Heartworm Testing
Mosquitoes are omnipresent in most parts of the country and carry many diseases, including West Nile Virus and Heartworm Disease. Both, if untreated, will eventually lead to death. Your pet should be heartworm tested and put on a preventive program appropriate to the region your pet lives in. PetVet Clinics offer these measures, without the office visit fees of a traditional vet.
SEPTEMBER – Back to School
For millions of students, September means back to school, but pet owners can also take advantage of this time of year and enroll in a training program. With thousands of schools and programs available across the country, pet owners can curb bad habits and teach good ones. A well-trained pet not only makes an owner's daily life easier, it can prevent costly accidents and mishaps.
OCTOBER – Cancer Screening
As in people, cancer is one of the most common causes of death in animals. Success in treatment -- chemotherapy, radiation therapy, or surgery -- is dependent upon early diagnosis. Your pet should have a thorough physical exam at least once a year.
NOVEMBER – Winter Weather Warnings
Cold weather, forced air heating, and shorter days takes a toll on pets. Make sure you provide sufficient shelter from the elements, such as insulating an outside dog house, or provide a jacket or booties for daily walks. Also, adding fatty acid supplements to a diet can help a coat that is drying out.
DECEMBER – Spoil Your Pets, Safely!
A gift for your cat or dog should be fun and safe! Try to supervise play with new toys, or as your pet enjoys a new treat, to prevent choking on any small parts. Always remember that people food, especially chocolate and meat bones, are not a gift to your pet, but may be a gift to your vet!