Livestock Swap Sells Animals and Supplies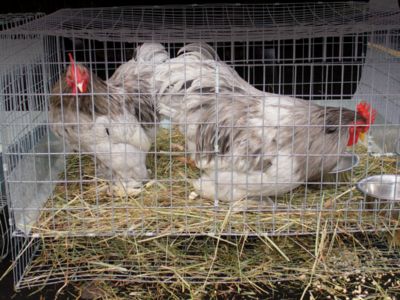 By Carol Davis
Photography by Brian Hawkins
If a regularly scheduled farmer's market was a great place for buying and selling fresh produce, then why wouldn't the same notion work for livestock, wondered Wendy Pimentel, of Seabrook, N.H.
Pimentel talked over the idea with Cheryl Emerson, a team member at the newly-opened Tractor Supply store in Milford, N.H., about organizing a "Chickenstock" - an event where chicken lovers flock to swap birds and tips - in the store's parking lot.
They coordinated the first chicken swap with Tractor Supply's grand opening in summer 2008. "People came from Maine, New Hampshire, and Massachusetts," Pimentel says. "It was awesome."
The Milford Tractor Supply agreed to host the swap monthly, and helped to nurture its growth.
"There weren't that many vendors at first, but (organizers) advertised it (online) and we posted a bulletin on our front store window when the next one would be," says Ben Thompson, the Tractor Supply store's assistant manager. "It grew right from there."
Selling chickens was the original plan, but it grew to include other livestock, such as other poultry, goats, sheep, pigs, and the occasional horse.
In time, vendors who sold such products as homemade soap, honey, and used livestock equipment were invited to participate to help create more of a market fair atmosphere that now draws large crowds, Pimentel says.
Other retailers and feed stores around the region recognized the unique critter swap's value and requested to regularly host an event, as well.
Now, two livestock swaps are held in the state each weekend from early spring until the end of November, except for July and August when heat stress is most dangerous to poultry.
"We try to spread them out so people all around the state can experience it, too," Pimentel says.
Pimentel continues to advertise the swaps online and sends out a newsletter each month detailing swap schedules. She also sells Flemish giant rabbits, which are rare in her region, and laying hens at the swaps.
"There is no fee to set up and everybody is welcome to come," she says.
Pimentel and others use the swaps as an opportunity to teach new animal owners about proper care and feeding.
"We, as sellers, have to make sure that people understand that you can't take a baby chicken, throw it in the car, and take it home. You have to keep them warm and have certain supplies for them," she says.
"Some of us have fliers we've printed up to tell you what supplies you need, how many birds will fit into a certain coop, mites, blood testing, and we give them ideas, such as what breeds don't match with other breeds," she says.
Tractor Supply assists novice animal owners at its swap by arranging displays of the supplies a new owner needs to take an animal home and successfully raise it.
In the growing crowds at each swap, Pimentel notices the occasional familiar face of a previous customer.
"They start out with laying hens and then look for something different," she says, "like chickens that lay different- colored eggs or interesting breed mixes."