Reindeer Farm Spreads Christmas Cheer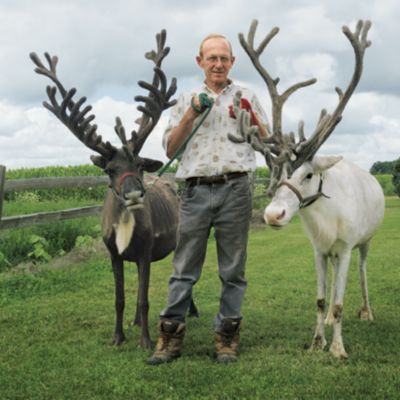 By Renee Elder
Photography by Robert Hendricks
Cards and letters addressed to Cupid, Comet, or any of Santa's reindeer invariably make their way every Christmas season to local post offices across the country, and mail carriers undoubtedly enjoy the notes scrawled by holiday- bedazzled children.
But Pewamo, Mich., postal workers know just where to deliver these letters of love and appreciation: to the real- life residents of Rooftop Landing Reindeer Farm.
"Each Christmas, without fail, we get cards from kids, and they're usually addressed to Comet or Cupid or Blizzard or Goose," says Dave Aldrich, owner of the central Michigan farm.
Comet, Cupid, and 18 other reindeer make their home on Aldrich's 10-acre farm. While the animals live a life of relative leisure much of the year, the weeks leading up to Christmas send them on a rigorous schedule of school visits, shopping mall appearances, parades, and more - anywhere the spirit of Christmas beckons.
It's rewarding work, says Aldrich, who fell in love with the animals after a friend brought some down from Alaska 14 years ago.
"I'd always been big on the Christmas season, so I had to have some reindeer as soon as I saw them," he says.
Holiday public appearances have led to a legion of fans. "Everybody gets a smile on their face when they see a reindeer," Aldrich says.
"We seem to get the biggest response from adults, because many of them don't believe there is such a thing as real reindeer. They'll ask us, 'Are they elk? Are they caribou?' And when we tell them they are truly reindeer, sometimes they don't believe us."
Reindeer are a cousin to caribou and are native to the northernmost regions of Europe and Asia, an area also known as Lapland. For more than 2,000 years, they have been kept as working animals, as well as for their hides and meat.
"It's too cold in Lapland for horses to live, so they use reindeer just like horses," Aldrich says.
Although the holiday season accounts for most of the farm's activity and income, caring for the reindeer is a year- round job. Several weeks in the summer are devoted to training calves born each spring, Aldrich says.
"Unlike true deer, reindeer are domesticated animals; they can be tamed," Aldrich says. They're also docile by nature, so they're ideally suited for visits with children.
"If we tell them to load, they'll walk right into the trailer. No other kind of deer in the world can you train like this."
Reindeer calves are trained on a reward system - "Reindeer love apples so that's what we train them with" - that requires at least three hours of work daily until they are between four and six months old and ready to sell.
"The calves go to people who want to do the same things I do - public displays," Aldrich says.
Remarkable Reindeer
Aldrich has affection for all his reindeer, but he admits to a few favorites. One is Blizzard, a 6-year-old reindeer who he describes as the farm's "star."
"He is big and beautiful and snow white, which is very, very rare. He gets lots of 'ooohs' and 'aaahs.'"
Another standout is 2-year-old Noel. "She's our new photo animal," Aldrich says. "She'll stand for extended periods of time and allow a photo to be taken. That takes a little extra training because you have flashes going off and people standing right next to her."
And then there's Goose. "He's our biggest reindeer, a little over 400 pounds," Aldrich says. "He got his name Goose because his mother rejected him when he was born and wouldn't feed him. I had to put him on a bottle, and every time he was ready to eat he made a honking noise that sounded like a goose. Everybody would say: 'Dave, the goose is calling you.' That name kind of stuck."
Goose still sticks by his foster father.
"He's so incredibly tame that it can be a nuisance," Aldrich says. "When I'm cleaning out the barn or working in the pasture, he stays about 6 inches away from me the whole time."
Caring for reindeer requires proper fencing to keep wild deer from mingling with the herd. White tail deer carry diseases that may be deadly to reindeer. Six-foot fencing is required by federal law, but most reindeer farmers choose an 8-foot fence for greater security.
The animals also need shelter from rain and the hot summer sun.
"They can only take 80- or 90-degree heat for relatively short periods of time," Aldrich says. "We have fans we turn on for them, and if it gets really hot we put sprinklers out."
The reindeer seem to embrace cold weather, running, kicking, and playing when temperatures tumble.
Although most historical accounts indicate reindeer have been part of the tradition only since the early 1800s, when poet Clement Clark Moore included them in his famous poem, The Night Before Christmas, they are considered an inseparable part of Santa's entourage today.
That's just fine with Aldrich. "I wish Christmas came twice a year.