How to Protect Livestock in the Field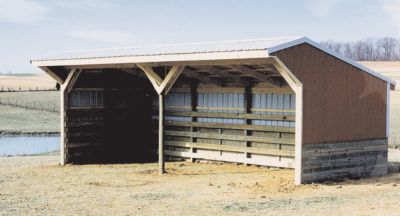 When livestock is out at pasture, owners may not be able to round them all up in time to beat a storm or extreme lows in nigh-time temperatures. Learn why having a field shelter is a good practice for any owner of livestock.
Why Animals Need Shelter
If you own or keep livestock, think about setting up a field shelter this winter in addition to your barn. Temperatures across the country can drop at any time, and snow can pile high in some areas. It is a good idea to start thinking now about providing your livestock with protection from harsh weather while they are away from the barn and in the field. Extreme cold temperatures, snow or ice can cause frostbite in some animals. And the cold may not be the only thing your livestock need protection from. Animals need a shelter from heavy rain, winds or hail as well as the extreme heat of the mid-day sun.
Cattle, horses, goats, sheep, and even alpacas and llamas can usually handle rainy, windy, or cold temperatures, but when these elements combine, livestock can quickly become chilled. Most vulnerable are animals that are old, young, thin, not well or newly shorn.
At the very least, a windbreak is vital, says one animal expert. Animal owners can make a simple windbreak shelter using a stand of trees and a few pieces of scrap lumber.
"If the animals have a windbreak, they will survive," says Cynthia McCall, an Auburn (Ala.) University professor and cooperative extension horse specialist. "They may be cold, they may have a miserable night once in awhile, but they will survive if they have some way to get out of the wind."
She advises, however, that livestock have access to a roofed shelter. Dry and out of the wind is better than a windbreak. It doesn't have to be an enclosed barn; an open-faced shed is usually adequate, allowing the animals to come and go as necessary, McCall says.
"I like a two- or three-sided shed. If an animal is sick or injured you can take some panels and make a stall out of it," she says.
How to Plan and Build a Shelter for Livestock
Livestock shelters don't have to be fancy or expensive. The goal is simply to give animals a way to escape the worst weather. In planning a shelter, the first consideration is placement.
Where to Put a Livestock Field Shelter
Choose well-drained, high ground to prevent the floor from flooding or turning into a mud pit.
The shelter should face away from the prevailing winds, but consider thunderstorm and snow drifting patterns, too. A shed buried in a snowdrift is useless.
What Types of Animals Need Shelter?
Another consideration is what kind of animals will use the shed. A basic rule of thumb is to give each animal a space approximately four times its body size. For a horse, that means about 75 square feet. For a goat, it's closer to 4 square feet, she says.
A shelter that is too small can allow an aggressive alpha animal to force the rest of the herd to stand in the weather or may force the most submissive animal out of the shed.
Avoid narrow openings. Dominant animals can trap another animal inside the shed and injure it if the opening is too small. Openings should be large enough that the lead animal can't block it. In regions of extreme cold, openings can be covered with carpet or other heavy fabric that an animal can push through to enter or exit, but the wind can't whip around. Check regularly, though, to make sure the animals aren't afraid to push through the covering, and that nothing is eating it. Keep in mind, however, that covering doorways reduces airflow, which can lead to respiratory problems for your livestock if the shelters aren't cleaned regularly.
Blinding snow, driving rain, and whipping winds aren't exactly top of mind in the mild days of early fall, but if you build shelter now, your livestock will benefit when the bone-chilling days and nights of winter arrive.