Goat Care for Beginners: How to Care for Goats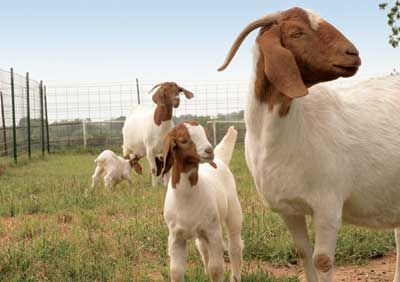 Goats are ruminants, or mammals that digest roughage by chewing, partially digesting, regurgitating and then chewing it some more. When you hear people say that goats or cows are chewing "cud", they are actually chewing the partially-digested roughage that was previously swallowed.
Roughage for Goats
Because goats are ruminants, the majority of feed goats consume should be roughage. This includes "browse" such as shrubs and woody plants, and also forage, such as hay and pasture.
Roughage is not always enough to satisfy the nutritional needs of goats. Supplement your goats' forage diet with pelletized or coarse grain goat feed. Work with your veterinarian to develop a feeding plan for your goats to ensure they are getting the proper amount of nutrition.
There are several types of browse that are poisonous to goats. Care should be taken to eliminate access to enclosures that contain these plants:
Poisonous Plants to Goats
Azaleas
Hemlock
Wild cherry
Members of the laurel family
Many others. Contact your county agricultural extension agency for a complete list of poisonous plants in your area.
When considering the quality of roughage for goats, a distinction should be made between "poor quality" roughage for cattle and "poor quality" roughage for goats. Goats are not able to digest the cell wall of plants because feed stays in the digestive tract for a shorter amount of time. Therefore, plants with thicker cell walls, such as straw, provide almost no nutritional value for goats but may be sufficient for cattle. Goats will eat various plants that are not palatable to cattle, such as leaves from trees and shrubs, and goats are known to eat almost anything regardless of its nutritional value.
Hay can be fed as a source of digestible fiber. To avoid waste, install a wall mounted hay rack in your goats' barn stall.
Livestock Supplements for Goats
Especially when roughage quality is poor, goats should be supplemented with quality supplements formulated specially for goats. This will ensure that goats' nutritional requirements are met. Generally, milk goats are fed more supplements than meat goats. It is easy to overfeed a goat which leads to obesity and a lowered rate of productivity. Commercial feeds specifically formulated for goats such as DuMor goat formula are recommended to help prevent obesity. Refer to livestock feed labels for specific goat feeding suggestions or visit your local Tractor Supply Co. store to get advice from an expert team member.
Minerals for Goats
Goats require several specific minerals for basic body function and optimum production. Goats should have access to trace mineral salt containing selenium at all times. A complete mineral supplement formulated especially for goats is also recommended during certain seasons when browse and forage may be sparse and during peak production levels. In addition, other minerals may be naturally deficient in your area, so it is a good idea to consult your local agricultural extension agency for specific mineral feeding suggestions. Goats are susceptible to Grass Tetany, although not to the same degree as cattle. Grass Tetany is caused by a deficiency in magnesium and occurs most frequently when goats are grazing lush pasture in the spring but can also occur in fall and winter. Offer a mineral supplement with higher levels of magnesium prior to exposing goats to lush pasture land.
Water for Goats
Water needs in goats vary with seasonal changes, level of production and moisture content of forage. Because of the unpredictable fluctuation in water demand, goats should have access to an adequate supply of fresh water at all times.
Goat Feeding and Supplement Guide
Refer to the table below to figure out how much to feed your goat and what to feed goats:
| | | |
| --- | --- | --- |
| Product | Unit Size | Feed Rate |
| Sheep & Goat Block | 33-1/3 lb Block | 1 Block per 12-15 head |
| Sheep & Goat Block | 50 lb. Bag | 1 lb. per head per month |
| 4% All Stock Block | 50 lb. Bag | 1-2 lbs. per head per month |
| 16% Sheep & Goat Tub | 100 lb. Tub | --- |
| Dried Molasses | 50 lb. Bag | --- |
Creep Feeding Goats
Creep Feeding refers to feed provided to goat kids, or baby goats, in an area specifically designed to prevent adult goats from consuming the feed. Creep feed is a way of supplementing a goat mother's milk and pasture feed. Creep feeding is known to help goat kids develop healthier immune systems and increased weaning weights.
Q and A: Answers to the Most Frequently Asked Questions about Goat Care
Q. Where can I find the most accurate and up-to-date information about goat feed offered at Tractor Supply Co.?
A. Everything you need to select the right kind of goat feed can be found on feed labels.
Q. What should I feed my goat?
A. Goats are ruminant animals, which is a term that refers to any animal with a multi-chambered stomach. Goats are primarily "browsers", which means they pick and choose between a wide variety of weeds, shrubs, woody plants and even briars. However, most goats will need nutritional supplements in addition to forage. This includes pasture, hay and concentrates.
Q. How much should I feed my goat?
A. Nutritional requirements of goats can vary depending on life stage, activity level, pregnancy, lactation and breed. Increased production demands will also cause an increase in nutritional demands. Because of this wide range of nutritional needs, when feeding supplement concentrates or grains, read the label on goat feed bags for suggested feeding quantities. Consult a veterinarian who is familiar with your goat's breed and the quality of forage in your area. Also consider that meat production goats have different nutritional needs than milk production goats. Care should be taken to avoid feeding goats too much. Obese animals have lower reproduction rates and are subject to arthritis.
Q. What is urea, and can I feed it to my goat?
A. Urea is a non-protein source of nitrogen commonly used for ruminants due to convenience, availability and low cost. Micro-organisms in the goat's rumen, or part of the goat's large intestine, use urea to produce protein. The protein is then digested and absorbed by the goat's body. Goats can digest urea, but it is highly unpalatable to them. As a result, they may actually avoid feed or supplements that contain urea.
Other Supplies You May Need While Caring for Goats
Submersible tank heater (for livestock tanks)
Plastic 5 gallon bucket
4-quart galvanized feed scoop
White salt (sodium chloride) 50 lb. block
White salt 4 lb. brick
Trace mineral salt 50 lb. block
Trace mineral salt 4 lb. brick
Sheep and goat mineral 50 lb. bag
Sheep and goat protein block
16% sheep and goat tub 100 lb. tub
Goat drench
Goat fly spray
Goat bunk feeder
Mesh gates
Goat watering tanks