Feeding Sheep & Lamb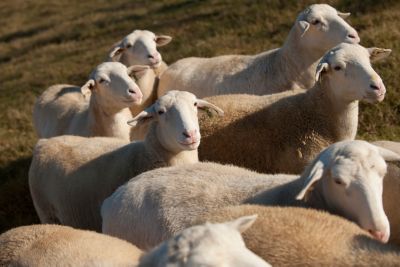 Sheep and lamb feeds provide animals with the protein, carbohydrates, fiber, vitamins, and minerals they need. Some feeds are designed to be the primary source of food for the animals, while other feeds are designed to provide animals that eat forage with the extra protein and energy they need to complete their diet, such as sheep and lambs.
Sheep and lamb supplements provide animals with extra minerals, vitamins, and other compounds they may require to meet specific needs.
When a sheep eats forage, it means the animal grazes on grass in a pasture or field or eats some kind of preserved forage such as hay, silage, or haylage.
The elements of a basic sheep diet are similar to those of other farm animals.
Protein, Fat and Fiber
Minerals
Roughage
Concentrates
Water
In addition, sheep cannot tolerate very much copper in their diet, though they do need a small amount. Many people believe that sheep should have NO copper in their diet. TSC sells feed for sheep that is specially formulated to provide the optimum low level of copper that sheep need.
To find out more about sheep & goat feed and supplements, visit your local Tractor Supply Co. store, and an expert team member will be happy to help.
Protein, Fat and Fiber
Many animal owners pay attention to the nutritional values of their animal feed just as they might for the food they eat themselves. Each type of feed contains different percentages of protein, fat, and fiber. These levels are not accidental. Different types of sheep feed are designed to have the right amount of protein, fat, and fiber for a particular animal.
Forms of Sheep Feed and Minerals
Sheep feed comes in three forms (or combination of the forms):
Pelleted sheep feed has the ingredients milled and formed into pellets.
Sweet feed is feed in the form of fresh grains plus pellets
Block feed for sheep has the ingredients milled and formed into solid blocks.
Minerals for sheep come in two forms:
Loose minerals can be offered by a separate mineral feeder or added to feed just as people can put salt on food.
Block minerals are solid blocks that the animals lick.
Roughage
The majority of feed consumed by sheep should be roughage. In fact, when a sufficient quantity of forage is available, non-producing adult sheep can be maintained on roughage along with a supplemental source of salt and minerals. During cold weather, the quantity of high quality hay made available should be increased. There are several forms of roughage that are acceptable for feeding sheep. Such as pasture, hay, haylage, silage and straw.
Concentrates
In many cases, roughage alone is not adequate nutrition for maintaining proper body condition, as is the case during sheep breeding season and times of peak production. During conditions other than general maintenance, sheep should be fed concentrates, (grains or manufactured feeds) for additional energy and protein. Increasing grain amounts for ewes just prior to breeding is called flushing. It is recommended to start a flushing program about two or three weeks before rams are turned in. DuMor Sheep Formula is a nutritionally balanced feed for all life stages of sheep. DuMor Sheep Formula can also be used for creep when fed to lambs 3 weeks of age or older.
Water
There are several factors that can affect the amount of water sheep require. They include:
Environmental temperature (Sheep may consume up to 12 times more water in summer than in winter)
Wool covering (body temperature)
Size, (body condition)
Feed consumption
Gestation/lactation (water intake is doubled by the fifth month of gestation, and the additional demand is maintained throughout lactation).
Water should be kept above 35 degrees F in winter and below 75 degrees F. Sheep will not consume desirable quantities if water temperature is too cold or too warm. In winter months, a stock tank de-icer will keep the water at a desirable temperature to in courage proper water intake.
Daily Water Requirements of Sheep and Lambs
Adult Sheep
1-2 Gallons
Lactating Ewes
2-3 Gallons
Feeder Lambs
1-2 Gallons
Baby Lambs
1-3 Gallons
Feeding Lambs
Young lambs are routinely given creep feed during the nursing period. Lambs should have access to creep as early as 21 days of age. The creep area should be kept clean and well-bedded. Hay and fresh water should also be kept in the creep area. Hay intake should be restricted to 1/2 to 1 lb./day when lambs reach 85-90 lbs. This will cause the lambs to consume more grain and put on weight more quickly.
Estimates of Daily Feed Needs of Sheep (expressed in pounds)
Hay
Haylage
Corn Silage
Grain
Protein Supplement*
Ewe (150 lbs)
maintenance
2.5-4
6-7
7-8
-
-
breeding
2.5-4
7-8
8-9
0.5-1.0
-

early gestation

2.5-4
7-8
8-9
-
-
late gestation

4-5
9-10
10-11
0.5-1.0
1/8 - 1/4
lactation
5-7
10-12
11-13
1.0-2.5
1/4 - 1/2
Ram (250 lbs)
4-7
8-10
11-15
0.5-2.5
0 - 1/4
Feeder Lambs (30-110 lbs.)
0.5-2
2-4
-
1.0-3.5
1/4 - 1/2
*Protein supplement is normally needed when alfalfa hay is not used and corn is the grain.
Note: The chart assumes average weights (shown) for each class .Heavier animals will require larger amounts. For each additional 25lbs. of weight, feed approximately 1/4 lb. more total feed per day.
Internal Parasites in Sheep and Lambs
Internal parasites are a major concern of sheep producers because they cause losses by damaging the lining of the intestines, competing for nutrients, lowering immunity to disease, and reducing reproduction numbers. These losses can be avoided or at the very least significantly reduced by formulating an effective deworming program. All sheep de-wormers on the market today belong to one of three chemical families:
Benzimidazoles
Macrocyclic Lactones
Leviamisoles
To prevent resistance of worms to dewormers, rotate the three types of dewormers. Refer to specific product packaging for recommended dosage. For additional information on parasite control in sheep, consult your veterinarian.
Q and A: Answers to the Most Frequently Asked Questions about Feeding Sheep and Lambs
Where can I find the most accurate and up to date information about sheep and goat feed offered at Tractor Supply Co.

Everything you need to select the right kind of feed for your sheep is listed on the back of the bag.

What do I feed my sheep?

A balanced diet for sheep includes roughage (hay, pasture, haylage, silage), concentrates or manufactured feed), and a supply of fresh water.

How much do I feed my sheep?

Nutritional needs of sheep will vary based on age, sex, stage of production (i.e. growth, breeding, gestation, and lactation), and seasonal environmental changes. Use the chart guidelines for determining daily feed needs of sheep.

What is the rumen?

The first chamber of the ruminant stomach is called the rumen. (The term ruminant refers to any animal with a multi-chambered stomach.) The rumen acts as a large fermentation vat. It contains microbes, such as bacteria, fungi, and protozoa that assist in the digestive process.

Why is it important not to feed sheep supplements that contain copper?

While copper is a nutrient essential for life in all animals including sheep, sheep tend to be much more sensitive to excessive concentrations of copper than other farm animals. Copper toxicity in sheep usually results from an accumulation of copper in the liver over a period of time. High stress conditions cause cells in the liver to die, releasing high levels of copper into the blood, causing toxicity, and death. The most common symptoms of copper toxicity are anorexia and excessive thirst. Due to this high sensitivity, sheep should not be fed mineral blocks that contain added copper, or complete feeds that are not specifically formulated for sheep. DuMor Sheep from Tractor Supply not only provides optimum nutrition for sheep, but also contains the proper level of copper required.

Can I feed either of the protein tubs available at Tractor Supply Company to my sheep?

No. It is not advised to feed sheep any protein tub but those formulated specifically for sheep and goats.

Can I feed the Rabon Fly Block to my sheep?

No. Rabon block should only be offered to horses and cattle.

What is Urea and can it be fed to sheep?

Urea is a protein source commonly used for ruminants due to convenience, availability, and low cost. Urea can be used in a feed ration for adult sheep as about 1 percent of the total ration, or 3 percent of the concentrate portion of the feed. Urea should not be used in rations for very young lambs because the rumen may not yet be functioning completely and cannot utilize the urea. Urea should be introduced to the diet gradually (over a period of 2-3 weeks), to allow the microorganisms in the rumen to adapt. Be advised that sudden high levels of intake by a very hungry animal, or through urea settling to the bottom of the feed bunk, or rain water accumulating in a mineral feeder, can cause death.

What about salt and minerals?

As in all animals, salt and minerals are necessary to sustain life. Therefore, it is a general recommendation that salt be offered free choice, while making sure that fresh clean water is also available at all times. Failure to supplement salt and minerals can result in low fertility, weak lambs, lowered milk production, and impaired immunity. Be sure to offer only white salt block (Sodium Chloride), because trace mineral blocks contain copper, which is highly toxic to sheep. Tractor Supply Company offers a mineral block specifically designed for sheep that supplements deficiencies in roughage with no added copper.