How to Plan and Install a Livestock Corral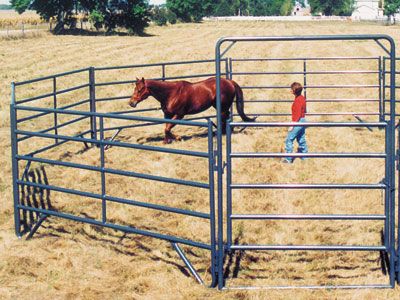 To find the number of corral panels you need to build a round pen, multiply the desired diameter (straight line passing through the center of the circle) by 3.14. This gives you the circumference (the distance around the circle).
Divide the circumference by the length of panels being used. This will equal the number of panels needed.
Number of panels needed:
PANEL LENGTH
DIAMETER OF HOLDING AREA (IN FEET)
20'
25'
30'
35'
40'
45'
50'
55'
60'
65'
70'
75'
80'
85'
90'
95'
100'
10'
6
8
9
11
13
14
16
17
19
20
22
24
25
27
28
30
31
12'
5
7
8
9
10
12
13
14
15
16
18
20
21
22
24
25
26