How to Recognize Equine Emergencies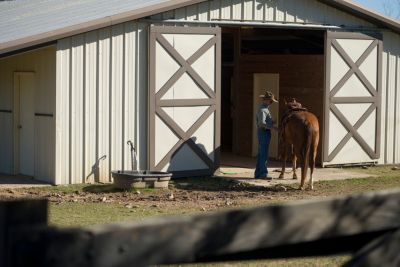 It is important to know how to respond when your horse has a medical condition. Here is a list of the most common equine emergencies, including treatment and procedures.
Eye Clamped Shut, Tearing
You notice your horse is squinting his eye tightly shut. Clear tears are streaming down his face or there's a thick yellow or white discharge. It could be Uveitis (aka 'moon blindness'Â? a painful inflammation of the iris) or an injury such as a scratch on the cornea. Move your horse to a darkened stall. Try to keep him from rubbing by cross-tying him or having someone stay with him. Call your vet.

Not Eating
Your horse is just picking at his hay and is definitely off of his feed. The problem could be colic, a fever or infection, mouth pain or the early stages of laminitis. First, check your horse's feed. Set it aside and note whether the other horses have left grain. Place a fresh bit of his manure in a bag and refrigerate it for your vet to check later. Take your horse's temperature, pulse and respiration. Call your vet and watch your horse until he arrives, noting any changes in behavior.

Sweating For No Reason
Your horse is sweating profusely for no apparent reason. He may be pawing, stretching out or showing other signs of discomfort. It could be colic. Take your horse's vital signs. Move him to a quiet stall. Call your vet and watch your horse until he arrives, noting any changes in behavior.

Reluctance To Move
Your horse's weight is rocked back over his hindquarters and his front legs are planted in front of his shoulders. He refuses to move or does so gingerly. It could be laminitis or founder due to grain overload, obesity, a recent illness, or genetic makeup. Your horse could also be tying up (myositis) or have a fracture or hoof abscess. Don't try to move him. Call your vet and describe his condition.

Diarrhea
You notice your horse has runny/liquid puddles of manure; spatters on your horse's hindquarters, tail and stall walls. It could be enteritis (an infection of the intestinal lining) or possibly a parasite related condition. You should isolate your horse in case he's contagious and remove grain, hay and bedding. Give him access to water. Call your vet.

Bleeding
You see blood on/around your horse. Check for lacerations or external injuries. If there's a lot of blood, find some clean towels or cloths, wrap as many layers as you can, and apply pressure until your vet gets there. Keep your horse quiet to help reduce bleeding.

Unusual Movement
Your horse is moving as though drunk, or with jerky steps or an odd gait. The cause could be neurological, lameness, colic or HYPP (hyperkalemic periodic paralysis). Moldy corn poisoning can also cause 'blind staggers'. If you feel it's dangerous to touch your horse, don't. Otherwise, confine him in a quiet place and call your vet.

Grain and Slime Coming From Nostrils; Gagging
Grain and green slime is coming from your horse's nostrils and he appears to be gagging. Your horse could be choking (esophageal obstruction). Most of the time, the choke is where the neck enters the chest. Massage downward along the esophagus on the left side, to where the neck meets the chest. Keep him quiet and calm until the vet arrives.

Standing In An Unusual Spot Or In One Place For Too Long
Your horse is standing by himself, away from the others, or not migratingÂ? around the pasture or moving around his stall like he normally would. He could be injured, but may not show outward signs. He may be in the early stages of colic, laminitis or a hoof abscess, or he may have a fever. Check him over, then take his vital signs. Note any changes in his behavior, gait or expression. Call your vet.

Lying Down
Your horse is lying down at a time when he's usually up and active. The problem could be early stages of colic, injury, lameness or fever. Approach him and see if he stands. If he does, watch him to see if he rejoins the herd or begins grazing or eating hay. If he seems to be in pain, has a dull expression, doesn't rise or lies down again, check his vital signs and call your vet.

Nostrils Flared, Rapid and/or Difficult Breathing
You notice labored breathing with nostrils flared, accompanied by respiratory noise or wheezing. This could be a result of infection, allergic reaction, trauma, anhidrosis (inability to sweat) or a functional abnormality of the throat (possibly a tumor). It may also be a symptom of strangles or reactive airway disease (heaves). Move your horse to a quiet spot out of the sun. Check his vital signs and call your vet. If it's hot or humid outside and your horse is the only one not sweating, rinse him to cool him down; then place him in front of a fan.

Excessive Drooling
You notice ropey strands of saliva spilling from your horse's mouth. Check for foreign bodies lodged in his mouth or possibly a broken tooth. Keep him quiet and calm until your vet arrives.