How to Eliminate Worms and Parasites in Horses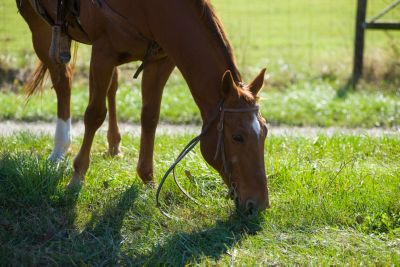 By Pat Hansen
Some of the most dangerous health threats to your horse or pony are microscopic menaces that must be battled constantly.
A year-round worming program is the best defense against internal parasites and the diseases that they can inflict upon your horse. Worms and parasites can cause weight loss, poor performance, rough coat, potbelly, stunted growth, and even fatal colic.
Worming programs are different, based on your geographic area, the number of horses you have, and their ages, says Dr. Bill Brown, a Missoula, Mont., veterinarian.
Your own veterinarian can determine a schedule that best suits your horse.
Healthy adults can ward off some of the effects of parasites; however, the best practice is to worm horses every six to eight weeks, Brown says.
"You can be a little strategic with your worming program in the northern climates, and more aggressive in the mild climates," Brown advises. "Here in western Montana, from Dec. 1 to mid-March, there is no significant risk for infestation, with the exception of horses at a boarding stable, especially if they share a stall with other horses. In this case, you could have wintertime transmission."
Brown generally recommends a quarterly alternating program to address bloodworms, roundworms, bots, pinworms, and tapeworms starting April 1.
Bloodworms are the most dangerous type of parasite to horses and are a primary cause of colic, he says. The blood-sucking parasites migrate through the horse's arteries, resulting in anemia, blood clots, fibrosis, obstruction of the blood supply to the gut, aneurysms, and sudden death.
Tapeworms live in a horse's large intestine, where they can cause hemorrhaging and fatal colic.
Foals are particularly susceptible to massive infestations of roundworms, which can cause fatal intestinal impaction, and thread worms, which cause diarrhea, weakness, and failure to thrive.
Start a foal's worming program before birth, by worming the mare just before foaling, Brown recommends. Then, worm foals at two months and monthly thereafter until they're about a year old, Brown says. After that, you can put them on an adult program.
Even if you've maintained a good worming program, reduce foals' risk of infection even further by keeping them off pasture grazed by foals and yearlings the year before.
Always worm all horses in one field at the same time. To maximize multi-horse parasite protection, use products that offer broad-spectrum control that attack many varieties and life stages of parasites, rather than those that target only one or two.
Be aware, however, of age restrictions. Not all de-wormers can be used for foals.
Pelleted daily wormers are also effective. However, horses develop a certain amount of natural immunity, and daily use from a young age may interfere with their natural resistance.
However, a daily wormer can be very effective as part of a conditioning program for young horses, but Brown recommends using it only intermittently, allowing the animals to develop a natural immunity.
Monitor your worming program's effectiveness with annual fecal tests, Brown says.
Last, but not least, practice good pasture management as a part of your worm control program.
Good management includes weekly dung removal, rotating horses on and off your pasture, and harrowing to break up manure, allowing sunlight to dry out parasite larvae.