Horse Fencing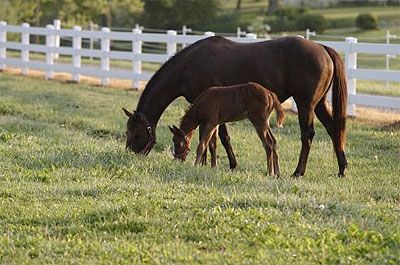 A horse's instinct to fly is sometimes stronger than his common sense, making him more prone to fence-related injury than other animals. For this reason, not all fences are appropriate for a horse. This guide will help you select the best fence to serve your needs as a horse owner.
Selecting a Horse Fence
The best horse fence is constructed with mesh. Mesh fencing is created by weaving wire into uniform patterns. Horizontal wires are called line wires, while vertical wires are called stay wires. Pullout is the measure, in inches, of the distance between stay wires. Wire gauge (abbreviated Ga.) describes the weight and size of the wire. The larger the number, the smaller the wire.
Tractor Supply offers two types of horse fence to meet your needs as a horse owner.
Keepsaf Horse Fence has unequalled linear strength and a springy texture. The vertical wires run diagonally to form the strongest possible 2"x4" diamond mesh. The galvanized wire is made in the U.S. with 100% American steel.
Square Deal Non-Climb Fence features 12 1/2-gauge, galvanized steel line wires, and 10-gauge top-and-bottom wires. Its strong, flexible 2"x4"Â?rectangular mesh resists being broken or eaten. The Square Deal knot prevents fences from buckling or sagging by providing extra vertical strength and rigidity. At the same time, its flexibility makes it ideal for installation over hilly or uneven terrain. When properly installed with the smooth side inward, Square Deal knots won't cut or damage animals.
How to Read the Style Number
When choosing Square Deal Non-Climb Fence, use the style number to determine the important dimensions of the fence.