Sunny Side Up Chicken Coop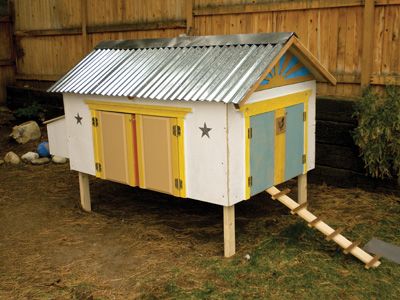 A Classic Design with an Easily Accessible Nest Box
There are a number of practical qualities to this design that poultry owners will appreciate. In terms of size alone, this design is versatile. The coop measures 4' x 6' (1200 x 1800mm), which provides 24 square feet (2.2 square meters) of floor space. Allowing 2 square feet (.2 square meters) per bird, a structure of this size could house up to 12 chickens. You can scale the concept to accommodate smaller or larger flocks too
A separate area—often called a sidecar—that is easily accessible from the outside of the run holds the nest boxes. Some poultry owners like this aspect, while others don't mind entering the run to collect eggs.
Because this coop is on stilts, its large footprint provides a shady area for the birds on hot days. It also makes for good airflow; breezes below the coop keep the ground dry, which is important for disease prevention. For ventilation, the coop's two large sets of double doors allow great interior circulation. The doors and the removable roosts make cleaning easier.
If you build this coop off-site, you will need to transport it to its destination. Therefore, this coop is easy to take apart and reassemble.