Rustic Victorian Sophistication Chicken Coop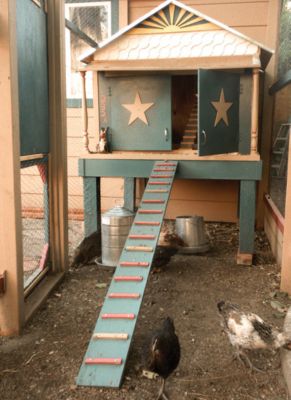 Fish Scale Shingles and a Front Porch Add Victorian Class
The Victorian-inspired detailing on this coop may be time-consuming, but it is completely worth it. You can embellish the front of the coop with a porch, which helps the coop to look less utilitarian and more sophisticated, as much as a chicken coop can be sophisticated.
In terms of practicality, this coop offers great nest-box accessibility through a door on the side. The nest boxes and roosts are removable to facilitate cleanup. The materials for the coop pictured here were 100 percent recycled—even down to the secondhand shingles. The decorative columns that hold up the porch roof are reclaimed spindles from an old staircase.
If you build this coop off-site, you will need to transport it to its destination. Therefore, this coop is easy to take apart and reassemble.