Family Has A Passion For Poultry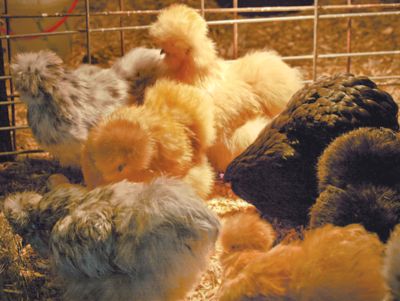 Passion For Poultry
By Karin Miller
Photography by Jean Sowders
When Shari McCollough was a little girl, she entered a chicken-chasing contest at the county fair.
Winners got to keep the chickens they caught or trade them for a fistful of tickets to fair rides. Many youngsters grabbed the tickets, but not little Shari. She took the chicken home.
That white hen with black speckles became a beloved pet that helped launch McCollough's passion for barnyard fowl. She and her five children now breed, raise, and exhibit chickens at poultry shows throughout Indiana.
"We started out very simple, just with a couple of birds, and never had the intention of starting into the exhibition part of it. It bloomed into something much bigger than that because of my obsession with chickens," McCollough, of Crawfordsville, Ind., says with a laugh.
Her birds — mostly Silkies and Cochins — have won many awards, even though the McColloughs have been showing them for only a few years. Poultry shows are to McCollough what Indianapolis Colts games are to a football fan: perfect bliss.
"I absolutely 100 percent thoroughly enjoy every second of it, because you're surrounded by hundreds of people that love birds as much as you do," she says. "You just feel at home because you could sit and talk for hours about chickens."
Her children love the shows because they hang out with friends and get to compete.
"They prepare all their own birds. They wash them. They cut their toenails. They trim their beaks. They make sure the bird is ready the day of the show," McCollough says. "If their bird wins, they've earned it."
In 2006, a Bantam Black Cochin hen shown by her son Kyle was the top winner of all the birds entered in the junior division of the Hoosier Poultry Association Show. He got $25, a large plaque, and a huge sense of pride, McCollough says.
McCollough's three daughters also have won cash, ribbons, and trophies, while 4-year-old Mason was begging last fall to compete in the peewee division. Her husband isn't obsessed with chickens, but he goes to the shows to offer moral support and has built her an insulated chicken room for the winter, as well as coops and show boxes.
The family transformed a shed on their 3-acre farm into a conditioning house for show birds and to house breeding pens.
A neighbor's former playhouse is now home to many of her Silkies, and part of their large barn also houses chickens.


Not on Their Dinner Table


The McColloughs eat some of the eggs their chickens lay, but they don't eat the birds.
"I just couldn't do that," she says, recalling her childhood when her mother would chop the heads off roosters, douse the bodies in scalding water, pluck, and dress them. And if a hen stopped laying eggs, it too would become dinner.
Not her favorite, though.
"Sweetie," the chicken that little Shari won at the fair, must have known its time was up when she and her father walked into the coop to take it to the chopping block.
"I swear to you, she stood up, made a little noise and out popped an egg. I couldn't believe it. And my dad was like, 'OK, I guess she stays then,'" McCollough says. "That was the greatest day of my life as a child."
Now, instead of eating birds that she no longer wants, McCollough sells them. She gets $25 to $75 per bird — certainly reasonable, but a far cry from the 25 cents apiece that she paid a friend of her daughter for their first eight chickens.
They bought those funny- looking, long-legged Modern Game Bantams in 2004. Then they got some Phoenix chickens and one of the females hatched some chicks from a clutch of eggs.
"We were so excited. We had our own chicks. And it really started to grow from there," she says.
First, they decided to get some good egg-laying birds, so they bought Orpington eggs and hatched them out. Then McCollough decided she wanted show birds, so she did some research and decided upon Silkies because of their unusual looks.
She found a good breeder and spent a significant sum of money — $225 — to ship six chicks from California. Then she got some Cochins, also from a reputable breeder.
She rarely buys birds now — only enough to avoid inbreeding and to get different colors in the mix. She enjoys the challenge of breeding her own birds, but that's not the only reason she raises chickens.
"I just truly love chickens. They make great pets. They're easy to take care of. The breeds I raise are friendly," she says.
"When I walk out to the coop, they're so happy to see me," she says. "They start clucking and crowing because they know I'm taking care of them, that I'm there to feed them and make sure they've got everything they need.'