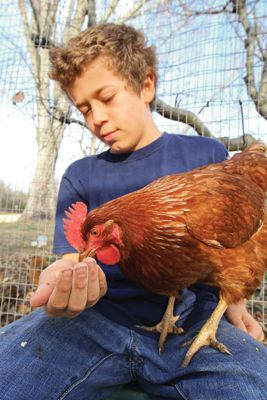 Egg Production Tips
Here's the coop: raising chickens can be fun and rewarding. Tractor Supply Company offers these tips and tricks for better egg production to help you succeed.
SHE NEEDS HER SPACE
A happy hen is a productive hen. To make sure layers have a "productive work environment," coop planning and maintenance is critical.
Allow 4 square feet of floor space per adult bird, 10 square feet if no outside run.
Have at least one nesting box for every 4-5 birds approximately 2 feet off the floor.
Provide 6"-10 " perch space per bird. Ideal perches have round edges, are 1" diameter for small birds, 2" diameter for large, both with rounded edges. Perches that are too wide can cause breast deformities. If you make perches too thin, the birds' toenails may puncture their own feet.
Outdoor runs need twice the space per bird as coops, but the more space the better.
Ventilate the coop well, preferably at the roofline to prevent draft on the roosts.
A CLEAN SWEEP
Keeping a clean coop means hens are more productive; your family is safer; and your neighbors are happier.
Clean bird waterers daily, and feeders at least weekly.
Clean nests weekly (except under brooding hens). Fresh bedding keeps hens healthy.
Replace floor litter often, especially in areas that get wet or very soiled.
Clean and disinfect coop and all equipment every 6 months. Choose detergents and disinfectants suitable to the materials being cleaned.
Consider coop materials carefully; porous softwoods harbor more bacteria than hardwoods and are harder to keep clean. Paint or seal wood surfaces before introducing chickens.
Install ample perch space away from nesting boxes. Roosting in or above nests increases the need to clean.
TO SERVE AND PROTECT
A coop's primary function is keeping your hens safe from predators and elements. But remember, improper nutrition steals production as fast as problem raccoons.
Your laying hens should have ready access to feed and water.
Chickens are omnivores. They happily eat raw veggies and table scraps (avoid poultry products). Remove uneaten food to prevent unwanted pests.
Skeletal development in pre-lay and laying hens depends on good nutrition. Layer rations provide needed levels of calcium, phosphorus, and Vitamin D.
Inadequate calcium creates thin shells, reduces production, increases breakage, and puts hen health at risk. Oyster shell or limestone are good calcium supplements.
Studies have shown eggs of pastured birds have increased nutritional value over their caged commercial counterparts. Access to forage also contributes to darker, richer yolks.
POTENTIAL FOR PROBLEMS
Productivity of your flock can be affected by a combination of sources, resulting in fewer or smaller eggs, increased breakage, thin shells, or hens not laying at all. Being aware of the following may help to solve lost production problems:
Poor feed quality, i.e., lacking protein, calcium, and energy.
Running out of feed or water can drop production temporarily.
Toxins in feed or forage. Birds should not pasture where pesticides or herbicides are used.
Stress or decreased feed consumption from sudden temperature changes or extremes.
Poor coop ventilation can cause build-up of toxins or gases and may lead to health problems.
Age. Hens naturally lose productivity, up to 15% in the second year.
Moulting. Chickens typically moult in late summer/early fall and will decrease production as the body replaces feathers continuing through the winter.
Shorter days. Artificial light can be used to lengthen the laying season, but overuse is unhealthy for hens. If used, extend the day artificially to no more than 14 hours total.
Diseases. If you suspect infection of your flock, consult a veterinarian.
Parasites like mites and coccidia. Cleaning coops, yards and providing dust baths help prevent infestations.