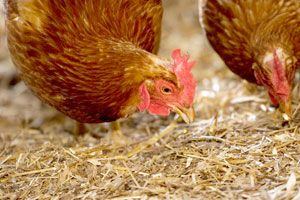 Your chickens will stay healthier and give you more eggs if you feed them well.
Chicken Feeding and Nutrition
By Christine Heinrichs
Chickens and other domestic animals rely on their keepers for adequate nutrition. Your chickens will stay healthier and give you more eggs if you feed them well.
Chickens love to eat everything. Technically, they are omnivores like us, meaning they don't limit themselves to meat, as carnivores do, or to leafy plants, fruits, nuts, and grains, as vegetarians prefer.
They are easy to please in the food department. Chickens need carbohydrates, oil, protein, vitamins, and minerals, along with plenty of fresh water.
Chicks, because they're babies, need different kinds of food from adult birds. Commercial feed companies formulate chick starter feed with more of the protein that these babies need — 16 to 22 percent. They can transition to adult feed at about 16 weeks.
Never give chicks adult feed. The minerals in it, especially calcium, which is important for laying hens, can severely damage a chick's kidneys.
Starter feeds typically include medication against coccidiosis, an intestinal disease that can be deadly for chicks. Coccidia parasites, which are released in a bird's droppings, are common, but keeping pens clean reduces the risk. The dose in medicated feed is so low that chicks get enough exposure to acquire immunity without getting so sick they die.
If you have a specific goal for your flock, such as laying or meat, select the appropriate formulation. Birds being raised as broilers need feed in the 20-22 percent protein range.
For layers, a lay ration with 16-20 percent protein is recommended. Lay ration contains calcium so eggshells stay hard. Supplemental calcium, either through a commercial product, or from crushing shells from your hens' own eggs, is recommended for older layers, whose eggshells become thinner and more fragile.
Scratch feed is made of whole grains, the kind of tasty seeds that chickens naturally scratch around to eat. It's not a complete diet — it's more of a treat — but commercially packaged ones are designed to provide a good addition to the diet.
Chickens don't have teeth, but they have a gizzard — an organ that contains grit and uses muscular action to grind up feed finely enough to be digested.
Foraging chickens may pick up enough grit — sand and pebbles — to keep their digestion working properly, but grit naturally gets ground up in the digestive process, so chickens must be fed commercial grit to supplement what they manage to pick up.
They also love table scraps — wilted lettuce, vegetable peels, stale bread — which can make feeding them more economical. Don't feed your chickens spoiled food and avoid strong-tasting tidbits such as onions or garlic, because those tastes will show up in the meat or eggs.
Finally, always provide your chickens with clean, fresh water. They drink often to keep digestion and body temperature at normal levels.