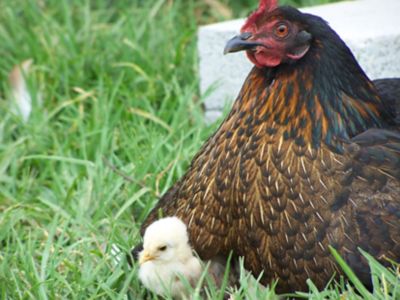 Bird Lovers Swap Chickens
By Teresa Odle
When Tammy Schrader's husband brought chickens home, this city girl went looking for help on raising them.
"I come from the south side of Chicago and knew nothing about chickens," says Schrader, now of San Pierre, Ind.
As Schrader learned about feeding and housing her chickens, she gained great advice, fell in love with her chickens, and made a best friend.
You might assume that Schrader turned to a neighbor. She did — but not in the traditional sense.
"Every Internet search brought me to Backyard Chickens … and that's how I found Kim," she says.
Backyard Chickens is an international online message board boasting nearly 8,000 "neighbors" ready to help any chicken owner 24 hours a day. Kim Roll — Schrader's best friend — hosts each year's Indiana Hoosier Chickenstock, a festival where chicken lovers flock each May from as far away as Georgia and Canada to swap birds and tips and to have a good time.
The one-day event is held at the 18-acre farm in Marion, Ind., where Roll and her husband Jeff raise and sell goats and poultry.
"People bring birds, and we have a gift exchange. We give John Deere Gator rides around the farm. And there's a pond for fishing," says Roll, who happens to be a team member at the Tractor Supply store in Marion.
A raffle helps raise money toward the minimal fee of joining the message board for those who can't afford to.
The online forum is a global backyard fence, says "Chick Chair" Cindy Wise, of Poulsbo, Wash.
"Most people initially sign up looking for how to take care of the chicks they just brought home, how to start," she says. "But people stay for the social and community aspect."
One message poster needed help when her Husky had puppies and suddenly decided to eat the chickens she hadn't ever bothered.
"People came on to talk about how her prey instinct had been increased and also offered advice on what to do with the chicken she had injured," Roll says.
Wise keeps the chat room and other discussions safe for under-age members. But the community really polices itself. "These are some of the best people I've never met," Wise says.
Chickenstocks are held around the country to bring members together who have gotten acquainted online.
"You get to meet the people you've talked to every day who have helped you through so many things with your birds," Schrader says.
"I started networking with people as customers and they became friends," Roll says. Most of Roll's customers keep chicks as pets, she says.
"I have them for the joy of raising them," Schrader says. "I play with them, hand-feed them. And thank them for their eggs."
Start 'em out right
If you plan to start your own backyard chicken flock, begin with about 12 chicks, Kim Roll advises. Get everything you need to start them out right — chick feeders, chick feed, waterers, incubators, and more at your local Tractor Supply store.