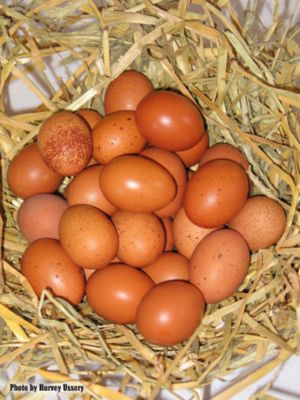 Benefits Of Keeping Free Range Flocks
Eggs from backyard flocks are some of the best eggs in the world. Those dependant on supermarket eggs may not even know what they're missing. Chickens provide more food than just eggs. Necessary culling of the flock graces the dinner table with flavorful meat. But backyard flocks can play a part in self-sufficiency in more ways than simply feeding your family. Chickens offer insect control, tillage and great entertainment. Poultry are ideal starter livestock for most homesteads, because their needs are simply and cheaply met, and anyone can start on a small scale.
A Place To Roost
One reason poultry make ideal livestock is that their housing needs can be met simply. All domesticated poultry are resilient and just need protection from predators and weather extremes. Housing that protects your birds from wind, rain and snow will be sufficient for your flock. It's also important to provide shade on the hottest summer days. A minimum of 3 square feet of shade per adult bird is needed, although 4 or 5 square feet would be even better.
Chickens, guineas and turkeys all have a natural instinct to roost at night and will be happier if provided perches to do so. Any structure that permits them to sleep perched above ground level will fulfill their urge to roost. For the laying hens in the flock, provide nests. I make nests (12 inches high and wide, 16 inches deep) and line them with straw or other clean, soft material.
Many structures can serve adequately for housing poultry. I advise leaving an earth floor in the coop, covered with up to 12 inches of straw or hay. Domestic poultry are cold hardy. They don't require added heat here in Hume, Va., where temperatures reach 10 below zero, as long as they have wind protection in the coldest weather. I make sure that their house is draft proof, while assuring essential ventilation. On occasion, cocks (males) suffer frostbite on their large combs and wattles (the fleshy red protuberances hanging from and on top of their heads). If you are further north, you might want to select breeds with smaller combs and wattles that are almost resistant to frostbite.
Another winter concern is whether to provide artificial lighting to lessen the natural drop in the number of eggs produced during the dark winter months. I don't use such lighting. We simply adjust to using fewer eggs in the winter. But if your flock is healthy and well fed, you can keep lights on them in the winter without consequences. It is convenient to set the light on a timer and set the timer to increase morning light for a total of 14 hours a day. Allow only natural light in the evening, so the birds aren't startled when the artificial light shuts off suddenly. One 40- or 60-watt bulb should be sufficient.
In certain situations, chickens will eat eggs and once they start, it's a hard habit to break. To prevent egg eating in the flock, mount the nests above floor level, provide enough nests (one for every eight hens or so) and collect eggs regularly.
We don't wash eggs when they come from the nest absolutely clean. For those eggs with a smear or stain, we clean them using a paper towel dipped in a mixture of half water and half white vinegar. Avoid immersing eggs, as it can drive bacteria through the shells.
Putting the Flock to Pasture
If possible, I urge against the conventional homestead flock, in which the birds are confined to a coop and a small, static chicken run. In a short time, the birds quickly consume or trample all available vegetation, and droppings accumulate. It's ideal to allow the birds to be on a healthy, green pasture where they can benefit from the sunshine, fresh air and exercise, and forage a substantial portion of their diet.
Some flock owners have no problems allowing their birds to range free during the day, penning them up at night to protect from nocturnal predators. For others, different problems exist (your neighbor's dog or your own), or proximity to gardens or flower beds prohibit this approach. In these situations, I recommend electric net fencing as a management tool.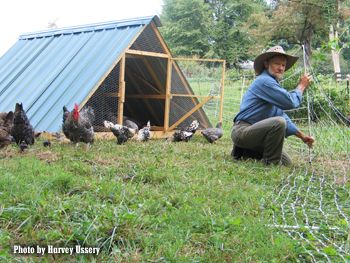 This fencing is a plastic mesh containing interwoven fence posts. The horizontal strands of the mesh are intertwined with ultra-fine stainless steel wires. Attached to a properly grounded fence energizer, the fence offers an unpleasant (but not harmful) surprise for unwelcome curiosity seekers. I have used it for years to provide the benefits of pasturing the flock, confining the birds where I want and protecting them from unwanted predators.
Feeding Options
Chickens are grazers, and eat a fair amount of grasses, clovers and broadleaf weeds. They love wild seeds and live foods such as earthworms, insects, slugs and snails. All of these options (plants, seeds, small animals) are alive and unprocessed. I encourage you to think about the feeding of your own flock. A willingness to experiment, some research about nutritional needs and access to natural ingredients available in your area are the only requirements.
Whether you purchase prepared feeds or mix your own replacements (from ingredients such as whole corn, oats, wheat, field peas and kelp meal), the main goal of your feeding program should be encouraging your flock's access to whole, natural foods. If your birds have access to pasture, they will discover a lot of high-quality food by themselves. If you recycle kitchen wastes or manage manure, you can harvest the worms as food for your flock. If you live in an area "blessed" with Japanese beetles, your eager birds will love them.
Earning Their Keep
There are many ways your flock can help you achieve key homestead goals. At one time, free-ranging poultry flocks helped to control excess insects in orchards. You can use a flock in much the same way, confining them to a specific area if necessary with electric net fencing. Another way the flock is useful is by cleaning up dropped fruit in the orchard, which can harbor disease or overwintering insects.
Although chickens would destroy a garden with their constant scratching, just before the garden season I allow my flock onto the garden site for two to four weeks. The birds consume sprouting weed seeds as well as slugs and snails.
I also assign tilling chores to my flock. If I want to begin a new garden, I net a flock of chickens onto the plot of land and let them scratch away at the tough sod. The sod is eventually killed and turned into the top few inches of the soil, getting fertilized in the process. It's a win-win situation for everyone.
By Harvey Ussery
Copyright Ogden Publications, Inc. 2010