Protect Your Cattle from Pests This Summer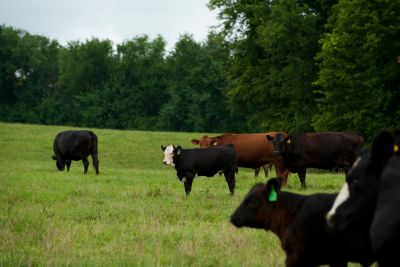 By Debra Nickelson DVM, MBA
As summer finally arrives, so too will insects, ready to bug your cattle. Flies, gnats, mosquitoes and no-see-ums are not just irritating to you and your animals.
Many of these annoying bugs also carry diseases which can cause minor issues, decreased productivity or even death. Whether you have a small hobby farm, a 4H animal or a large production herd, there are a number of diseases and disease transmitting pests from which to protect your cattle.
Horse and deer flies deliver more than painful bites. They can transmit yellow fever, called Anaplasmosis which causes high fever, incoordination, weight loss and is fatal in half the cases.
Gnats (including black flies) can spread the vesicular stomatitis virus which causes ulcers around the mouth and udder. While not fatal, cattle may have difficulty eating which negatively impacts milk and meat production.
House flies are notorious disease transmitters, especially diseases that affect the gastrointestinal system leading to diarrhea, dehydration and in some cases, death.
No matter the pest, beef cattle will exhibit slower weight gain or even weight loss while dairy cattle will product less milk and may not be able to maintain a healthy pregnancy.
Fortunately, you can protect your cattle by implementing an effective pest control program. Here are some suggested means of insect control:
Clean up manure and store it away from livestock
Eliminate stagnant water
Clean up clipped grass
Install a fan in stalls to drive away flies
Use feed through larvicide, a supplement in feed that kills maggots in manure
Use fly predators which are insects that kill maggots
Tractor Supply carries ready to use insect control such as Aqueous Fly Spray and concentrated versions such as Permethrin 10 Livestock & Premise Spray. Some people prefer or Livestock Backrubber & Pour-On. No matter what chemical you choose, make sure you use additional insect control to give your cattle the best protection.