Cattle Management is the Key to Your Herd's Health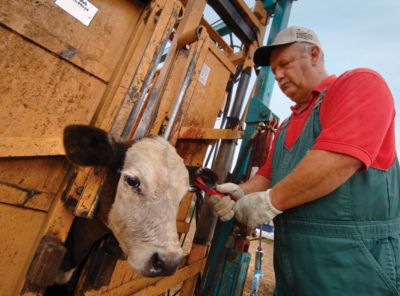 The health of each animal on your farm is important, but livestock health is often discussed in terms of the whole herd. That's because whether you have two cattle or 200, what distresses one easily can affect the others.
Transmissible diseases, environmental conditions, and weather may affect every animal.
Your cattle management is the key to your herd's health — how you move them, whether you quarantine sick animals, grazing methods, parasite control, and much more.
Well-planned herd management, which includes minimizing stress and crowding, careful care of calves, and implementing a good vaccination program, can help prevent most illnesses.
Biosecurity
One of the most effective ways to keep contagious diseases off your farm is to keep a closed herd. Avoid bringing in new cattle unless you are sure they are disease-free.
It's often safer to raise your own heifers than to purchase new cows. If you buy cows, heifers, or a new bull, buy from a reputable breeder, where you know the animals' genetics and health history.
A healthy animal may pick up a disease at an auction yard, if penned around a sick animal. Bringing a calf home from an auction — especially a day-old dairy calf to raise on a bottle or on a beef cow that lost her calf — is a common way to bring home diseases.
The tiny calf may not have received colostrums — the mother's first milk that contains important antibodies against diseases — and might be vulnerable to illnesses picked up at the dairy where it was born or at the auction yard. That calf may get sick after you bring it home, putting your own healthy animals at risk.
If you purchase new animals, keep them isolated for two weeks to make sure they are not incubating a disease. If an animal becomes sick while in the isolation pen or stall, you have an opportunity to clean that area, removing all feces and using an appropriate disinfectant — rather than having the sick animal infecting your herd.
Some diseases, such as BVD (bovine virus diarrhea) can be devastating. One infected animal brought to your farm can be disastrous, even if your cattle are vaccinated against this disease, because vaccinations are never 100 percent effective.
There is a BVD test that will show whether an animal is persistently infected and a danger to other cattle for the rest of its life. Any animal you purchase, such as a new bull, cows, or heifers, should be tested before you buy them.