Cattle Feeding and Nutrition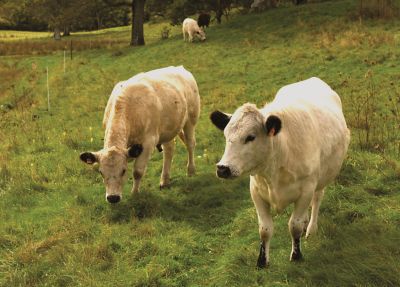 The majority of feed consumed by cattle should be forage.
Livestock feeds provide animals with the protein, carbohydrates, fiber, vitamins and minerals they need. Some cattle feeds are designed to be the primary source of food for the animals, while other feeds are designed to provide animals that eat forage with the extra protein and energy they need to complete their diet.
Supplements provide cattle with extra minerals, vitamins, and other compounds they may require to meet specific needs.
When an animal eats forage, it means the animal grazes on grass in a pasture or field or eats some kind of preserved forage such as hay, silage or haylage.


Types of Cattle Feed and Minerals
Cattle feed comes in three forms (or combination of the forms):
Pelletized cattle feed has the ingredients milled and formed into pellets.
Sweet feed comes in the form of fresh grains plus pellets
Block feed has the ingredients milled and formed into solid blocks.
Minerals come in two forms:
Loose minerals can be offered by a separate mineral feeder or added to feed just as people can put salt on food.
Block minerals are solid blocks that the animals lick.
Feeding Cattle and Calves
The season is important when considering what type of cattle feed to give your heard, especially for pasture cattle. In the spring, pasture cattle need a high magnesium (Mg) mineral supplement to prevent the occurrence of grass tetany (also called grass staggers), a magnesium deficiency condition that commonly occurs when cattle are turned out onto fresh pasture in the spring. The rest of the year cattle only need a regular pasture mineral.
Grass Tetany causes nervousness, muscle twitching, high temperature, fast respiration, and abundant salivation. Progression of the condition is rapid – death can occur as little as two to six hours after onset.
Ask the following questions when determining what type of feed your cattle needs:
What type of cattle do you own? Show cattle, dairy and beef cattle all have different nutritional needs.
How old are the cattle/calves? Adult cattle have different nutritional needs than calves.
What are the cattle's overall feeding program? Pasture cattle (i.e., cattle that graze on pasture as a regular part of their feeding) will need mineral blocks or loose minerals to ensure complete nutrition.
Are the cattle on pasture or dry lots? Pelletized feed works best for dry lots, while block feed is better for pasture.
Forage for Cattle
The majority of feed consumed by cattle should be forage. In fact, when a sufficient quantity of forage is available, cattle can be maintained on forage along with a supplemental source of salt and minerals. However, forage quality varies due to environmental changes. When the quality of forage drops, supplemental feed should be provided to maintain a consistent nutrition level. Feeding range blocks is also an excellent way to supplement forage deficiencies. Range blocks also contain trace minerals and salt, which are vital to life processes.
Cattle Supplements
In some cases, roughage alone is not adequate nutrition for maintaining proper body condition as is the case during the breeding season and times of peak production. The most critical times for producing cows are 60-90 days before calving and after calving. The additional demands placed on the cow during late calf development and milk production require increased nutritional requirements. Bulls should also be supplemented as necessary during breeding season.
Minerals for Cattle
As in all animals, salt and minerals are necessary to sustain life. As a general rule, a complete mineral supplement containing salt, calcium, phosphorus, and trace minerals should be provided free choice. However, care should be taken to follow label instructions for rate of consumption on all minerals. Factors such as forage quality, body condition and production level effect mineral requirements. For example, cows will need a mineral with higher levels of magnesium prior to being exposed to lush pasture to prevent Grass Tetany, which is caused by a deficiency of magnesium. This is especially critical for spring calving herds, but can also occur in fall and winter. Since magnesium is not highly palatable, cattle should not be given a choice between high magnesium mineral and other minerals. The chart below shows suggested feed rates for minerals available at Tractor Supply Company.
Product
Unit Size
Animal
Feed Rate
3-Way Sweet Block
33-1/3 lb Block
Beef Cattle
Non-lactating Dairy
Mature Horses
1 block per 10 head
Sweet Mag. Mineral
50 lb. Bag
Beef Cattle
Non-lactating Dairy
1 week prior to pasture
4-8 oz. per head per day
Sweet Mag. Block
50 lb. block
Beef Cattle
Non-lactating Dairy
1 week prior to pasture
4-8 oz. per head per day
4% All Stock Block
50 lb. block
Beef Cattle
Non-lactating Dairy
Mature Horses
Sheep & Goat
6-1/2 oz. per head per day
1-2 lb. per sheep or goat per month
6% Mineral
50 lb. Bag
Beef Cattle
Non-lactating Dairy
Mature Horses
Free choice
12% Hy-Phos Mineral
50 lb. Bag
Beef Cattle
Non-lactating Dairy
Mature Horses
2-1/2 oz. per head per day
Keep Cattle Watered
Water requirements of cattle are influenced by environment, level of production, age, and diet. Water intake directly influences feed intake. When water intake is reduced, daily feed intake is also reduced, which may significantly impact weight gains. A source of fresh water should be offered free choice at all times. Daily water consumption amounts will increase in higher temperatures and during the last four months of pregnancy.
Protein, Fat and Fiber in the Cattle Diet
Many animal owners pay attention to the nutritional values of their animal feed, just as they might for the food they eat themselves. Each type of feed contains different percentages of protein, fat, and fiber. These levels are not accidental. Different types of feed are designed to have the right amount of protein, fat, and fiber for a particular animal.
Creep Feeding Cattle
The term Creep Feeding refers to feed provided to calves in an area specifically designed to prevent adults from consuming the feed. Creep feed is a way of supplementing mother's milk and pasture. Consult backs of feedbags for free-choice consumption feeding suggestions. The Creep Feeder should be placed in an area where cows congregate naturally, such as near the water trough, or mineral feeders. Advantages of creep feeding include better structural development and increased weaning weights.
Cattle Body Condition Scoring
Since nutrient requirements vary by animal, Body Condition Scores are frequently used to help determine if the feeding program is providing adequate nutrients. The system uses a number score from 1 to 9 to rate the body condition of cattle. Thin animals score 1-3, moderate animals 4-6, and fat animals 7-9. For more information on Body Condition Scoring, contact your local ag extension office.
Other Supplies You May Need While Caring for Cattle
10' Galvanized Bunk
4' Galvanized Bunk
Twister Mineral Feeder
Round Bale Hay Feeder
Round Bale Feeder with Skirt
Bull Hay Feeder
750 lb. Creep Feeder
15 Gallon Rubber Tub
Safeguard Wormer Block
To find out more about cattle feed and supplements, call or visit your local Tractor Supply store.